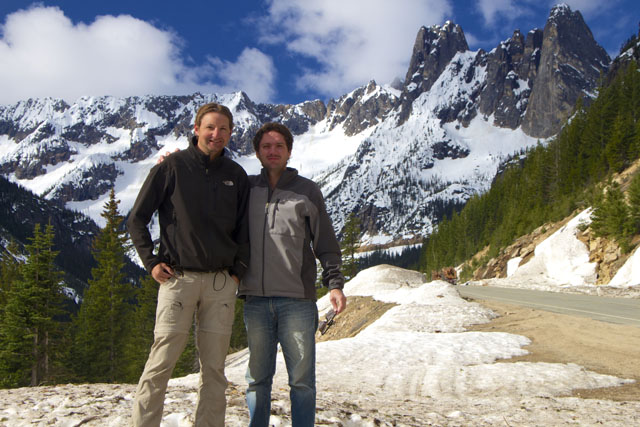 – Liberty Bell, Northern Cascades, Washington
Welcome to Trip Turbine, the most amazing travel website you will ever visit. Follow travel writing and photography team Theunis Botha and Marius Bezuidenhout on their tour of planet earth.
Armed with a camera, a notebook and a backpack they are taking on the world. Their goal is to travel slowly and sustainably, doing and learning things on a quest for exploration and staying out of the office ;-).
Their first point of call was Thailand, studying Thai, learning the culture and writing a bit about this amazing place. If you feel like sponsoring them a beer or just have some travel tips please send them as your feedback is appreciated.
Join them on an amazing adventure and travel with by keeping track of their journey as they keep you posted about spots they have visited and will be visiting in the next few years.
Also, follow TripTurbine on facebook
To find out what they do for a living visit  – Black Horse
Where in the world
Make yours @ BigHugeLabs.com
Places they have visited so far
Phuket (Thailand), Ao Nang (Thailand), Bangkok (Thailand), Hau Hin (Thailand), Phi Phi, Maya Island, Bamboo Island (Thailand), Koh Tao (Thailand), Koh Phangan (Thailand), Trang (Thailand), Chiang Mai (Thailand)
Kuala Lumpur (Malaysia), Georgetown (Penang – Malaysia)
Hong Kong (Hong Kong)
Seattle (Washington, USA), Ocean Shores (Washington), Seaside (Oregon), Portland (Oregon), Lincoln (Oregon), Roseburg (Oregon), Woodlands -Mount St.Helens (Washington), Gold Beach (Oregon), Cresent City (California), Eureka (California), Jedediah Smith Redwood State Park (California), Sequim (Washington), Port Angeles (Washington), Forks (Washington), La Push (Washington), Conway (Washington), Mount Vernon (Washington), Sedro-Woolley (Washington), Concrete (Washington), Newhalem (Washington), Diablo Lake (Washington), Ross Lake (Washington), Anacortes (Washington), La Conner (Washington), Friday Harbor (San Juan Islands), Seattle (Washington), Kent (Washington), Miami (USA), Seattle (USA), Cle Elum (Washington), Liberty (Washington), Chelan (Washington), Winthrop (Washington), Mazama (Washington)
Singapore (Singapore)
Shenzhen (China), Minzhi (China), Hangzhou (China), Shangai (China), Hangzhou (China), Wuxi (China)
Johannesburg (South Africa), Magaliesburg (South Africa)
Buenos Aires (Argentina), San Luis (Argentina), Mendoza (Argentina), Valparaíso (Chile), Viña del Mar (Chile), Concón (Chile), Navidad (Chile), La Boca (Chile), Pichilemu (Chile), Talca (Chile), San Clemente (Chile), Río Claro (Chile), Radal (Chile), Molina (Chile), San Nicolás (Chile), Chillán (Chile), Los Ángeles (Chile), Temuco (Chile), Pucón (Chile), Valdivia (Chile), Puerto Varas (Chile), San Carlos de Bariloche (Argentina), Castro (Chiloé Island), Puerto Natales (Chilean Patagonia), Punta Arenas (Antartica Chilena), Ushuaia (Tierra del Fuego)
Denpassar (Bali, Indonesia)
Luang Prabang (Loas), Vang Vieng (Loas), Pakxe (Laos), Don Det (Laos)
Da Nang (Vietnam), Hội An (Vietnam), Hue (Vietnam), Hanoi (Vietnam), Ha Long (Vietnam), SaPa (Vietnam), Hanoi (Vietnam)
Cambodia (Siem Reap)
Oslo (Norway), Tromsø (Norway)
Arjang (Sweden), Karlstad (Sweden), Orebro (Sweden), Strömsholm (Sweden), Vasteras (Sweden), Upsala (Sweden), Sollentuna (Sweden), Stockholm (Sweden), Stockholm (Sweden),
Strangnas (Sweden)
---
Now: Magaliesburg, South Africa (Our home town)
Next: Milan (Italy), Verona (Italy), Venice (Italy) – 14th of June 2018