This is our second visit to the Island of Koh Phangan, we arrived at the main pier at Thongsala Village from Koh Tao. The ferry ride was, in no other words, hectic. The sea was rough and it was storming outside. Inside the ferry, it was stuffy and warm as can be expected of typical tropical weather.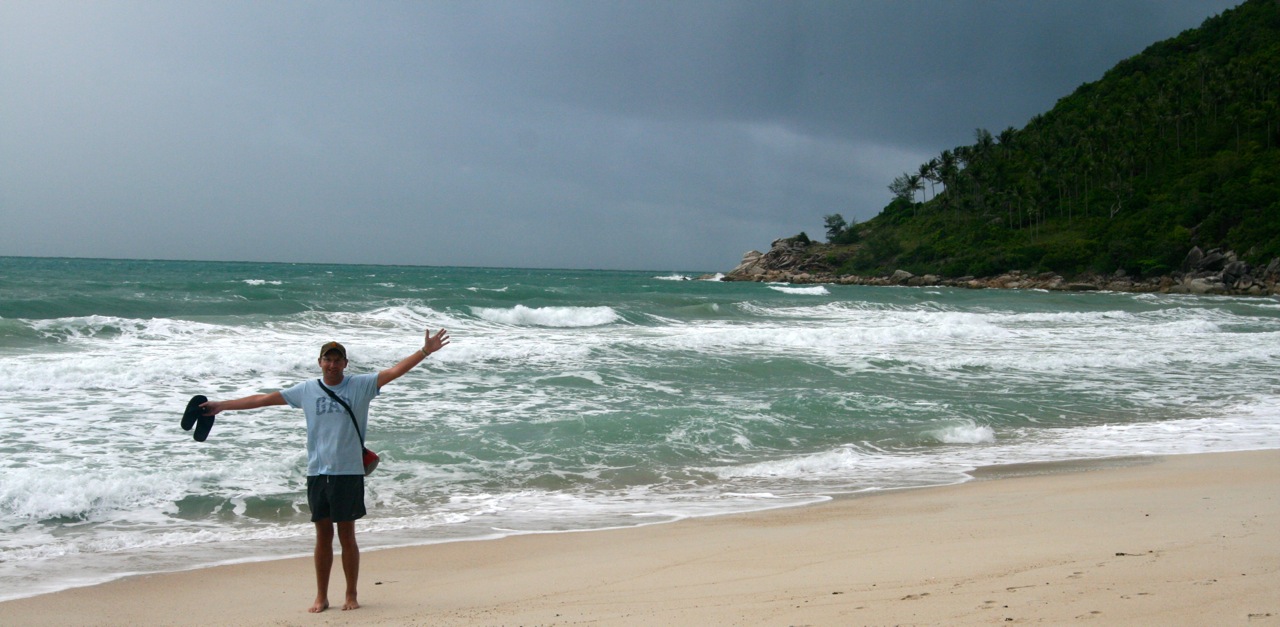 After a while, a few people started to get sick and this caused a chain reaction as more and more people headed out to the deck. I pride myself on never getting sea sick, but after a while, the queasiness started to kick in. Marius was doing just great though. Luckily I made it through without puking.
Arriving at Thongsala we headed for the nearest coffee shop to get our bearings and to escape the pouring rain. Our hotel, Bottle Beach Resort, is located on the northeastern side of Koh Phangan at Ao Haad Bay. We decided to rent a scooter and just drive there. At the bike rental shop, we started filling in forms but when I filled in our hotel address and the lovely Thai lady looked at me and said that there is no way we would be able to get there on a bike.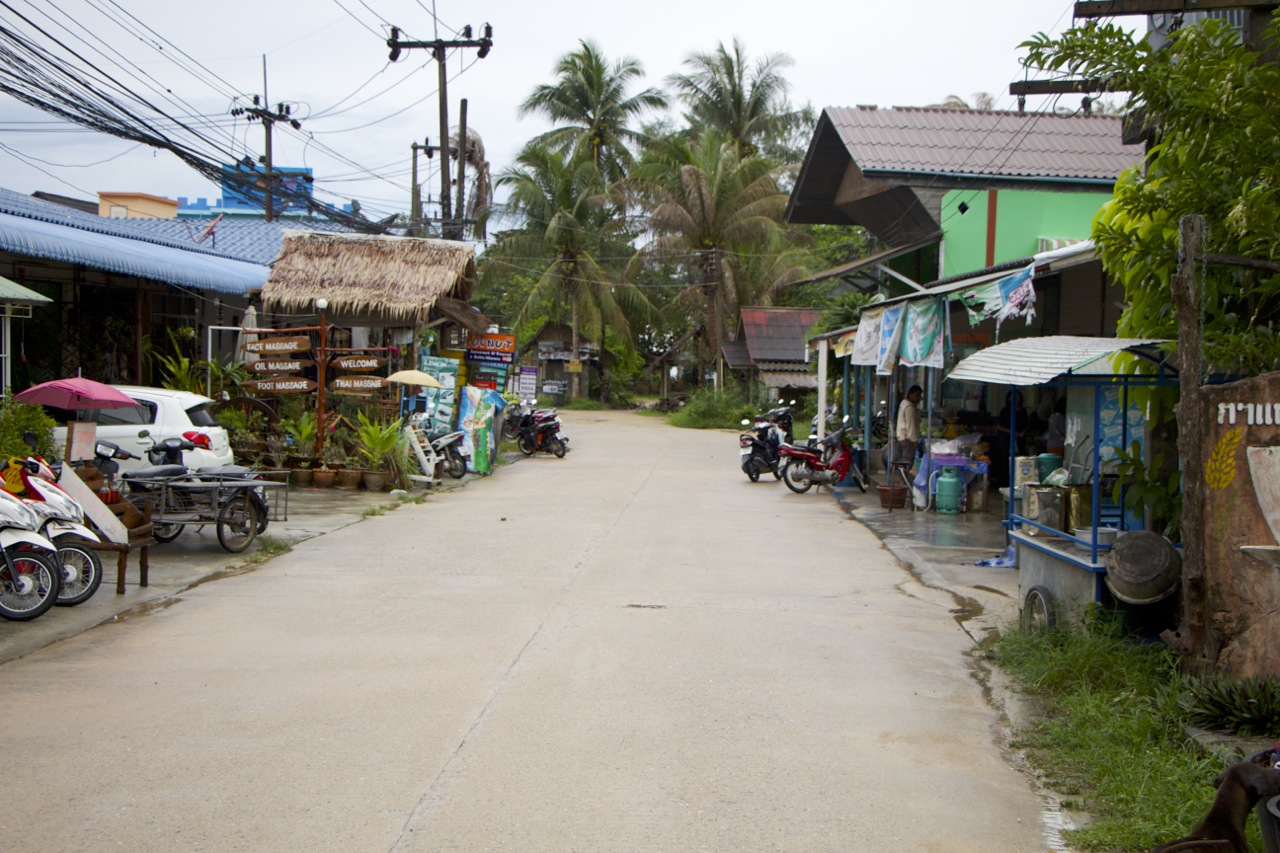 We rushed across the street in the rain to a Songthaew (a truck or "Bakkie" with two rows of seats on the back). The taxi was to take us to Baan Chaloklum and from there we then needed to take a water taxi to Bottle Beach. An hour later when we arrived in Baan Chaloklum we headed to the bay, however, there was not even one water taxi in sight. From one of the many boards advertising water taxi service, Marius got their number and we were told that it was too windy and no water taxis was running for the day, perhaps for the next 3 days. Dilemma! There is a hiking trail that leads over the mountain to bottle beach. So, determined we started heading towards it.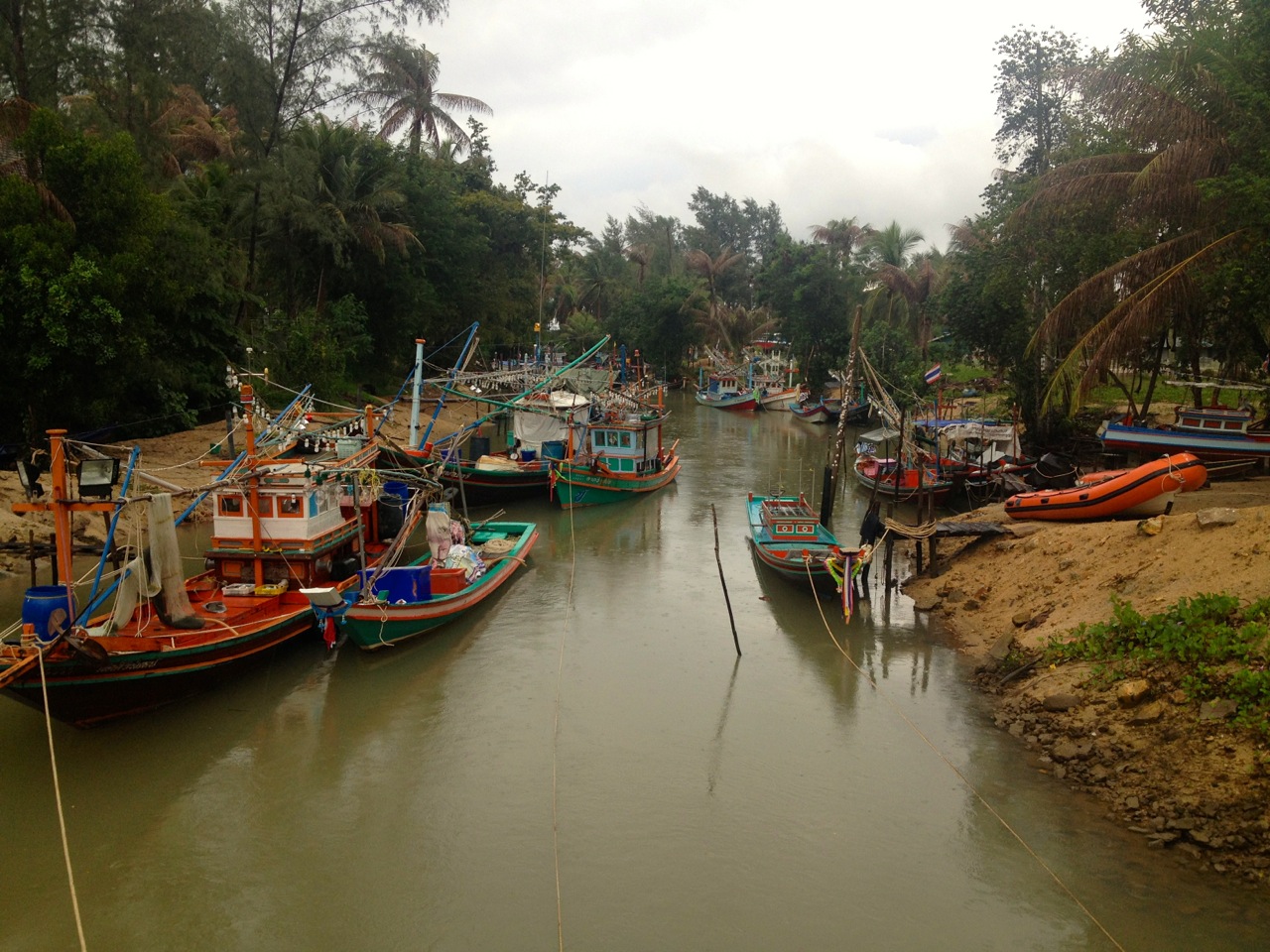 The trail, not for the faint-hearted, starts about a mile from Baan Chaloklum and runs across the mountain. There it was still drizzling and the path was wet. We had 2 backpacks and flip-flops, not even to mention that Marius now has blisters from his new flip-flops.
Is was just after 4 pm and Marius assures me we should reach the hotel around 6 pm. On our way up and over the river about half a mile to the trail started a Songthaew stops next to us and enquires where we are going, at awe about either our determination or stupidity. The lady informs us that the hotel we are heading to is closed.
We have a bookings.com reservation and it is definitely confirmed for the time we plan on spending there. Looking up their number on google, Marius gives them a call and yes they are open so they sent someone to come fetch us.
As we wait at the 7-Eleven a few lost and injured tourists pass us by. Many injuries caused on scooters as people are often victims of wet and muddy roads during the rainy season. An old 4X4 Toyota truck pulls up from Bottle Beach Resort to give us a ride. The muddy and battered 4×4 gave us a good idea of the roads or non-existing roads, that would lead to Bottle Beach.
Again we head back to Thongsala, right to where we started on the island, to take the road to the south across the island. Heavy machinery lines the road or the mudslide as we drive down the wet, muddy and slippery road. The cab slides from side to side as we cross temporary bridges and shallow rivers. We pass a few locals in their 4×4 stuck in the mud.
Just before the Village of Baan Thong Nai Pan we turn left towards Bottle beach and down a footpath. Whatever road there was has been swept away by rivers of water. Two Norwegian tourists, Sarah and Thor, are in the truck with us and we all clinging on for dear life as the truck slides down roads and spins uphill.
Thor tells us his stories of him working on the fishing ships in the North Sea, now a warehouse manager for clothes in Oslo. Sarah is from Columbian decent and a hotel front desk manager and she also teaches dance classes.
A few locals are trying to navigate the roads on their scooters but are not making any headway as they just slide deeper into the mud.
After arriving just after 6 pm (Marius was spot on except for the mode of transport) we headed into our hotel.
Bottle Beach Hotel is a typical Thai cum hippie hotel located right on the beach. The reception is open and friendly and a distinct smell of happiness fills the air (If you know what I'm saying ;-). The rooms are little bungalows located down into the garden and a few are also located along the beach.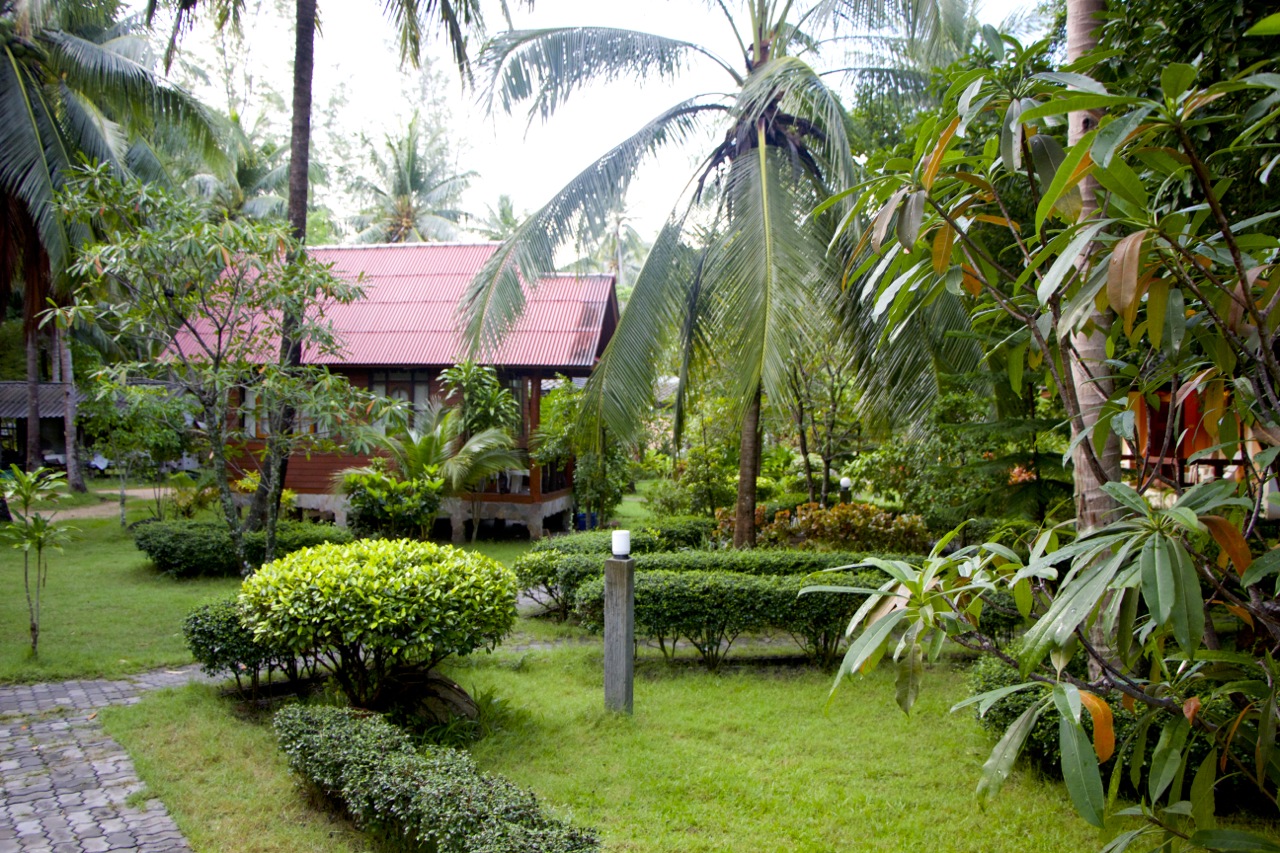 Cushions around tables welcome you to the beach. Around us is a group of hippies smoking and playing on their guitars. After a large Shinga and listening to the tunes we headed for a walk on the beach. Bottle Beach is rated as one of the top beaches in Koh Phangan.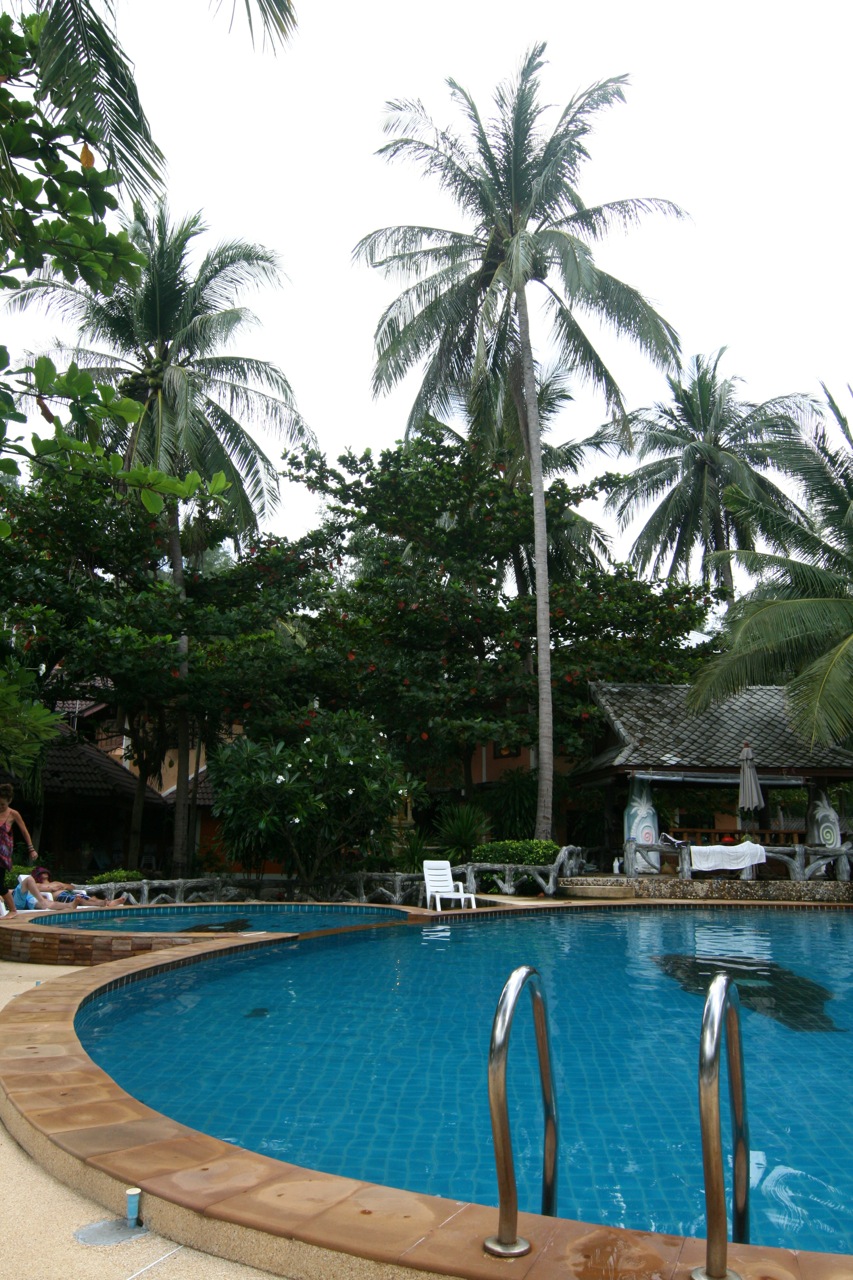 The next day we met up with Thor and Sarah for breakfast and some much-needed sunbathing next to the pool. We hit off so well with them and our conversation goes around the world as we watch the fire dancing and fireworks on the beach. Together with the full moon and some jungle beach we conversed until early hours of the next morning.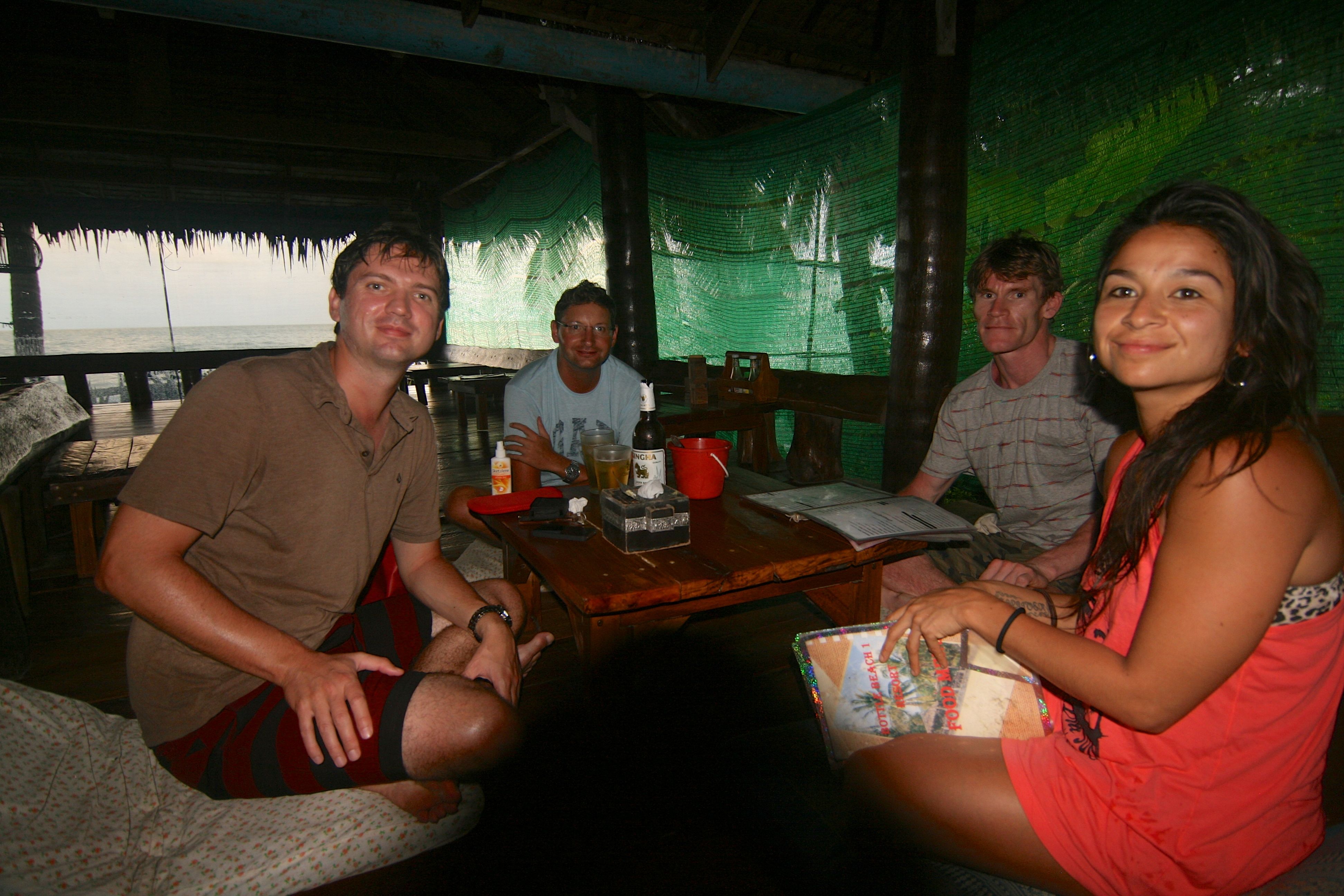 From left: Marius, Theunis, Thor & Sarah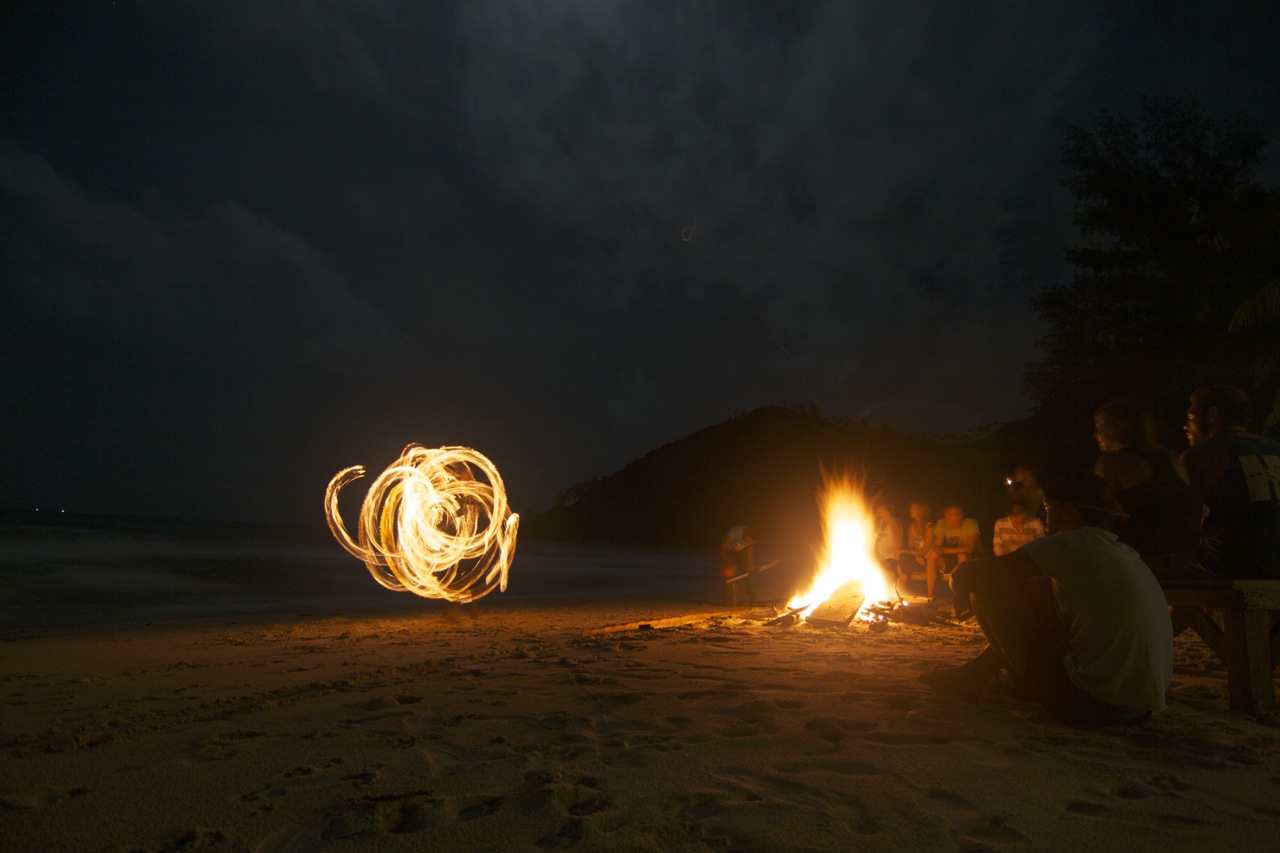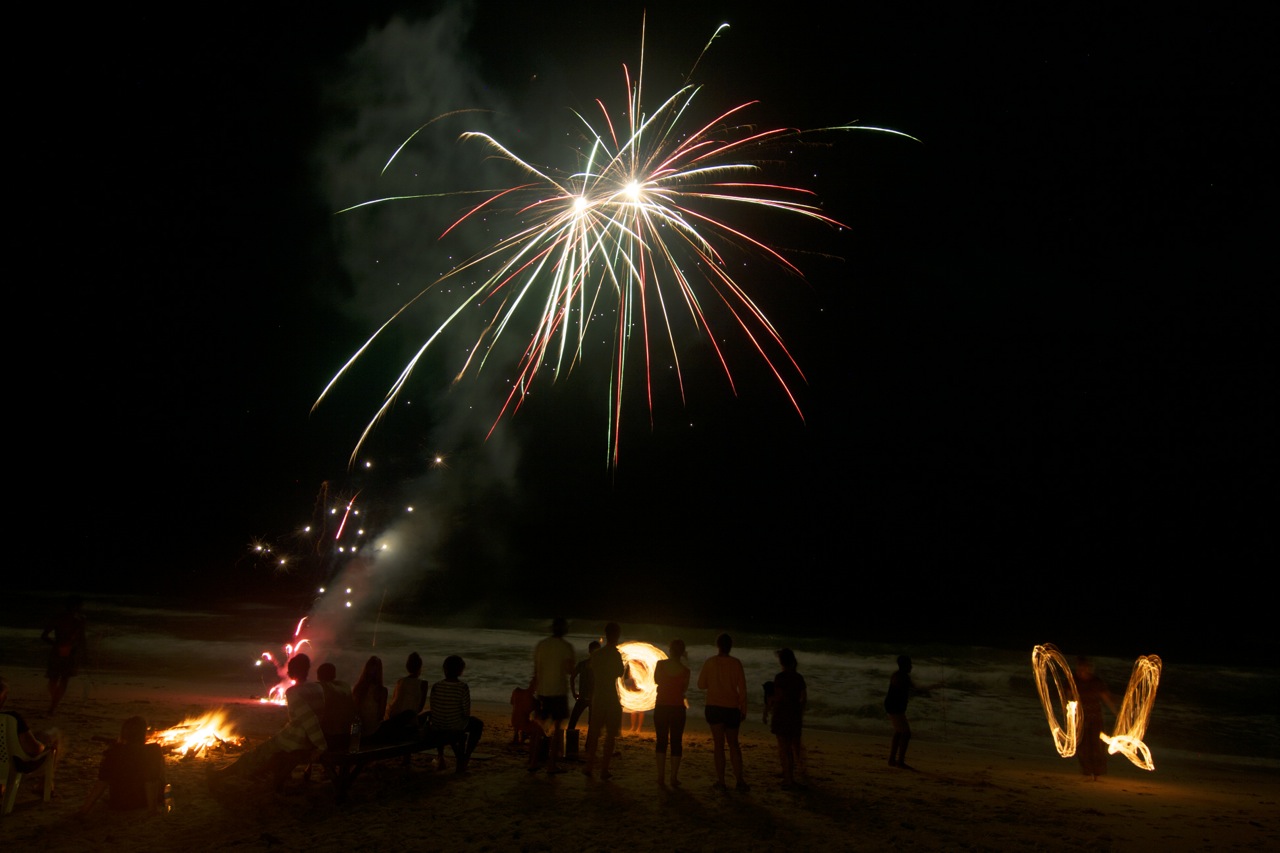 As we headed back to Krabi I cannot help but reflect that our journey so far has brought us to some of the most beautiful spots on earth but also gave us the opportunity to make new and amazing friends.