There is a big and lonely highway that runs between Krabi and the Don Sak pier. The drive of just over two and a half hours takes you through a picturesque part of southern Thailand. We arrived at the Seatram Pier and caught the 2 pm ferry (150 Bath per person) to Koh Samui.

The ferry trip is about an hour and 15 minutes, so we expected to arrive at around 4 pm in Koh Samui. Coming of the pier we were met by many taxi operators. Marius had a headache so I suggested we head into town, grab a beer and I went to find a pharmacy. Heading right out of the pier and about a kilometre to the east we found a little cafe with a pharmacy around the corner. While Marius was getting some drinks I headed over to get us tickets to Koh Tao. The lady at Lomprayah was so friendly and helpful and we quickly had two tickets (700 Bath each) for the high-speed ferry to Koh Tao which departed at 5 pm.
One of the most important things you can learn about travelling in Thailand is that you should never panic and just take it easy. There is always another ferry, bus or taxi going to where you want to go. Unless there is a set price don't just accept the first price and never let them hurry you on.
The ferry ride to Koh Tao is 2 1/2 hours and make sure you are on first to get a decent seat. The first stop is Koh Phanang and most of the passengers gets off here. If the weather is nice to grab a beer and go sit outside on the ferry deck and watch the sunset.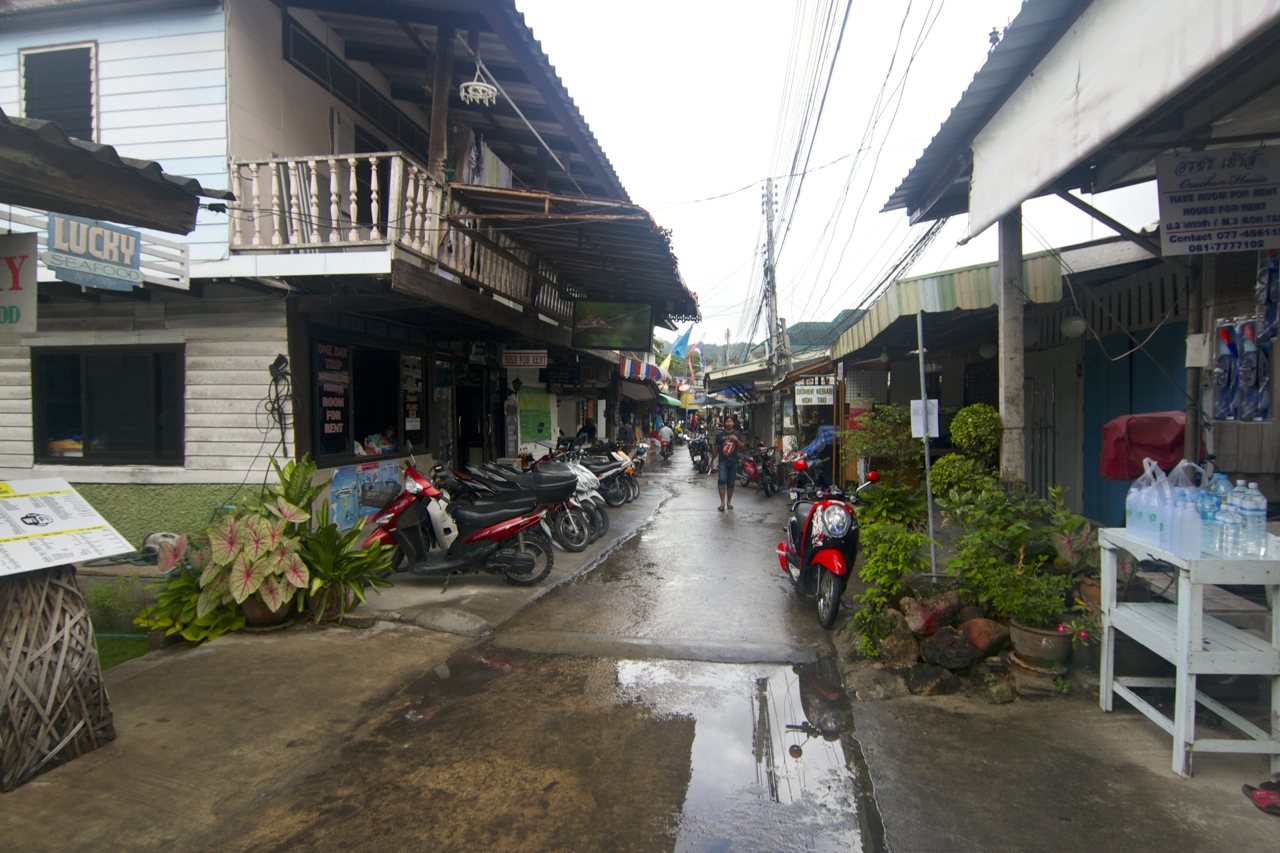 On arrival at the Koh Tao pier, which is very slim and crowded, grab your bags and head past all the taxi guys. If your hotel is close by rather walk as the taxis here are quite expensive so be prepared to whip out 600 Bath for even a short distance.
We booked into Baan Suanta, just up the road, but because Google has no street maps for Koh Tao we did get a bit lost. Trying to find our hotel we met up with a fellow lost traveller from Maryland in the USA and Marius at least got him his hotel's address.
We arrived way over 8 pm at our hotel, a lovely boutique hotel hidden away in this small town.
Day 1 – Breakfast
Travelling with Marius is a foodie experience from place to place. Many times we will sit down look at the menu and he will be like, I don't like our table, waiter, the menu, it can be anything and then well just move on to the next place.
We started the morning with breakfast at a coffee shop just down the hill from our hotel. Who wants to walk on an empty stomach anyway? Stay away from Eggs Benedict in Thailand, it was already a miracle that the spelling was correct.
After a bit of shopping (Plasters for Marius's blisters, my fault had him buy a pair of new flip flops) we rented a motorcycle.
Now there are a few things you should know about motorcycle rentals in Koh Tao.
It should cost you no more than 200 Bath per day
Rent at least a 125cc scooter, otherwise you not going to make it up the hills.
Make sure you check every scratch or nick off on the bike, do not let even just one slip.
Make sure your brakes work because you are going to use them all the time.
Time for some island exploring! Ready to go with a full tank of gas we headed out to Nang Yuan Terrace viewpoint. Although the roads are steep any person can drive it. Just be very careful and be sure to take it slow on the downhills. Having said that do not come to Koh Tao to learn how to drive a scooter, not a good idea.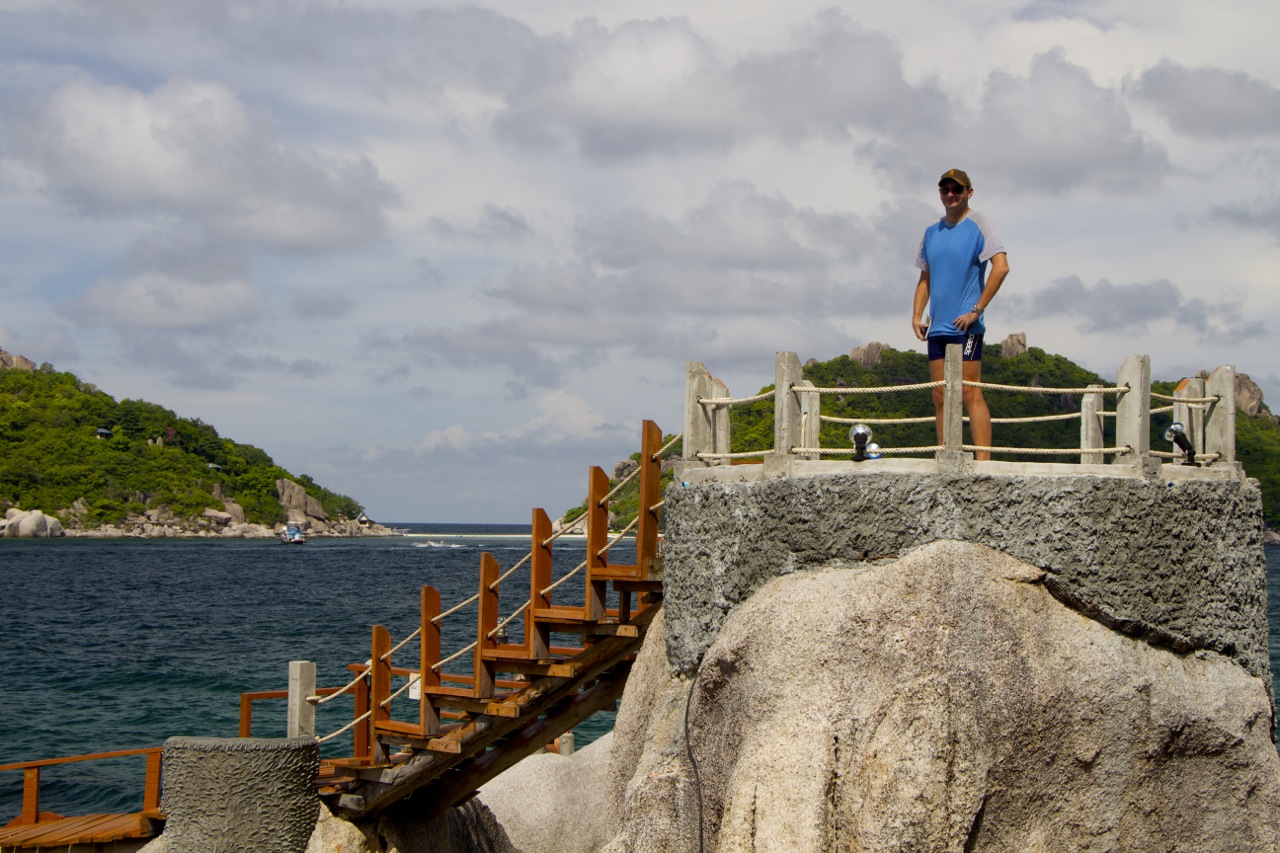 To get to Nang Yuan Terrace, park on the hill at the entrance to Dusit Buncha Resort and walk the 60 meters down to the viewpoint. It is spectacular and you get an amazing view of the Koh Nang Yuah islands. The resort is also incredible and you can have a sundowner drink at their restaurant.
From there we headed back through Sairee Beach and up to Mango Viewpoint. The road gets a bit trickier at this stage but with just a bit of patience, you can easily drive it on a scooter like we did. On the top of Mango viewpoint (20 Bath per person entrance) is the Mountain Bar, and the most stunning view of Koh Tao Island. From here you can see the whole Mae Haad Bay.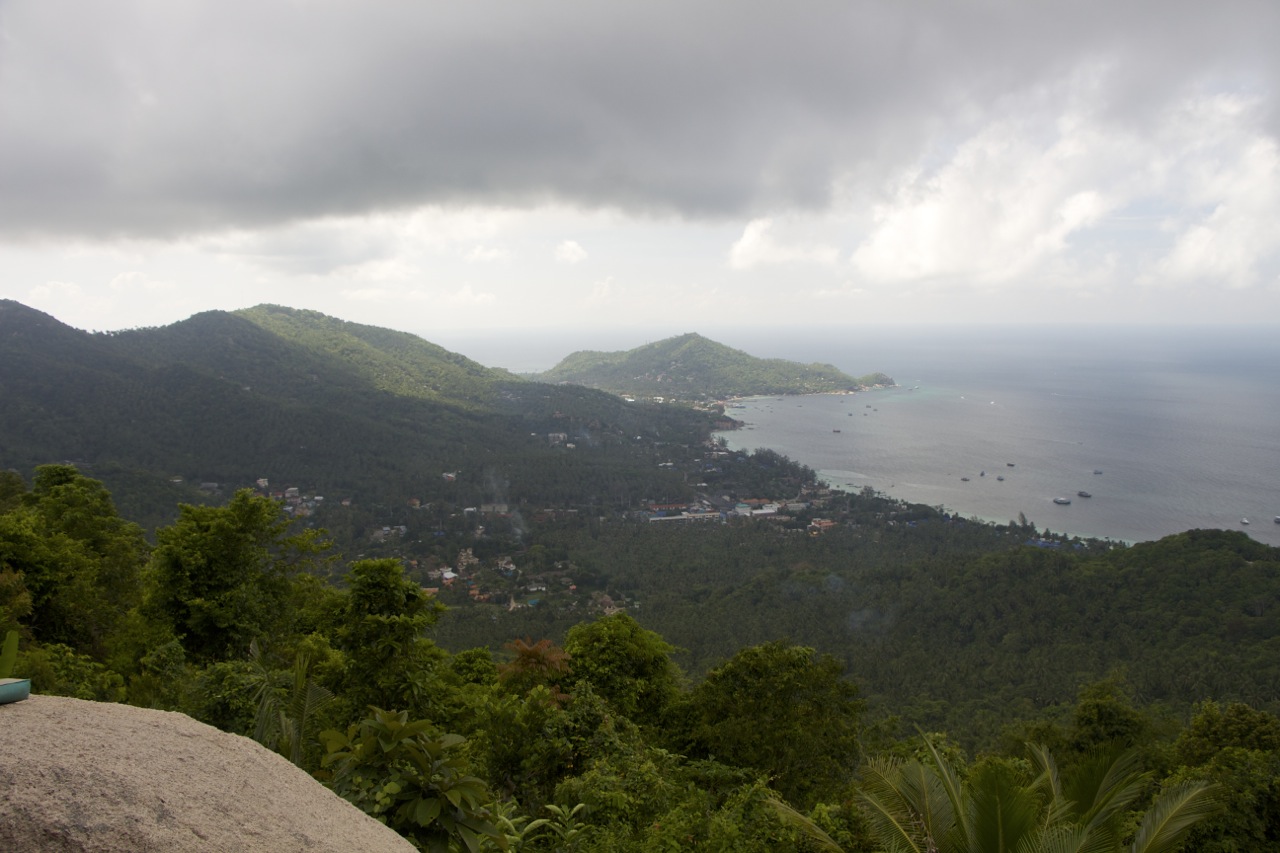 According to our little Koh Tao guidebook, there is a nice snorkelling spot at Mango Bay. We tried to get there but the road becomes undriveable further on. My passion for snorkelling leads us over to Hin Wong Bay. Just about to go into the bay we decided to stop for a drink at a small little bar (Sunset Bar) overlooking the bay. A Chang and a Sprite later (Marius being the driver) we headed down for some much-needed water time.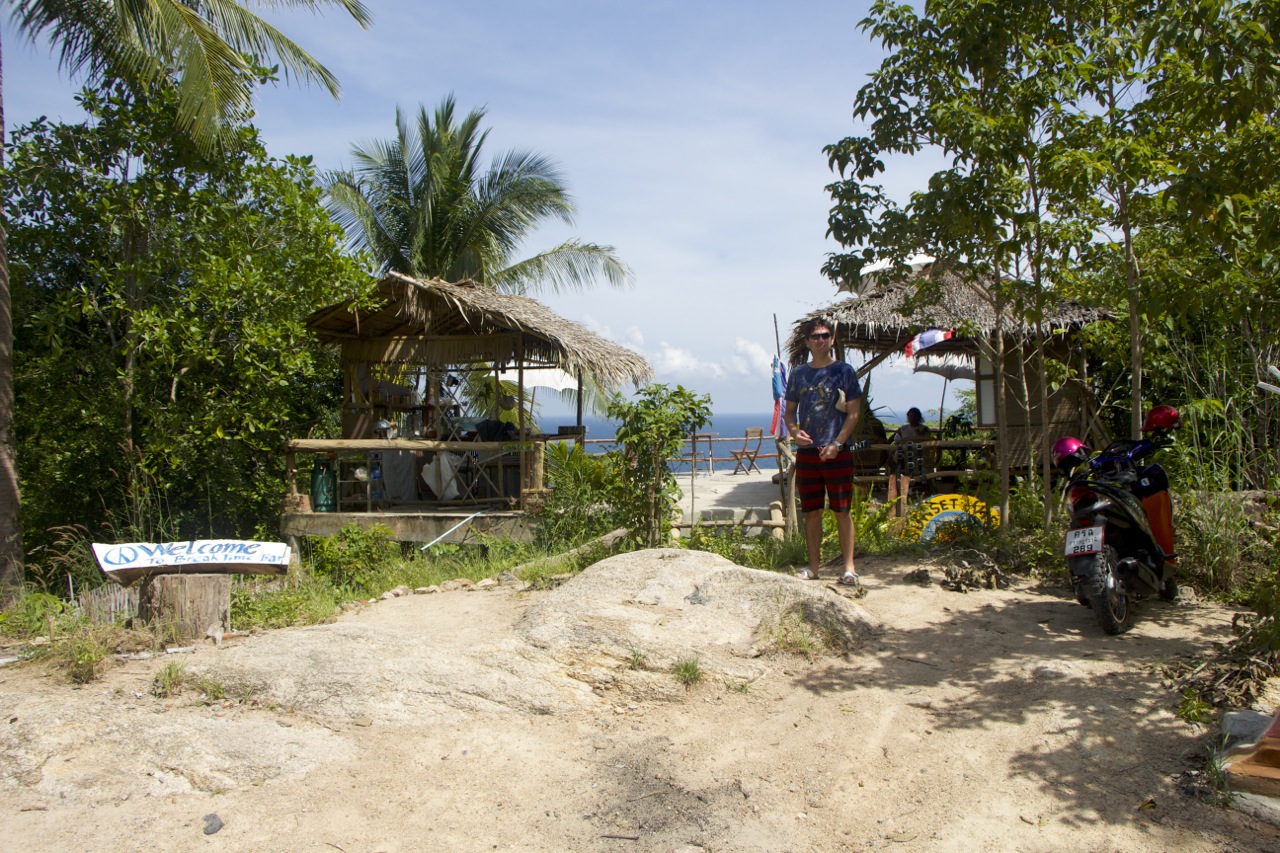 Hin Wong Bay, located on the east side of Koh Tao, is a large bay surrounded by huge boulders. The water is clear and one of the best snorkelling spots on the island. We had an amazing snorkelling experience and there were fish aplenty. So far it has been the best snorkelling experience in Thailand we had.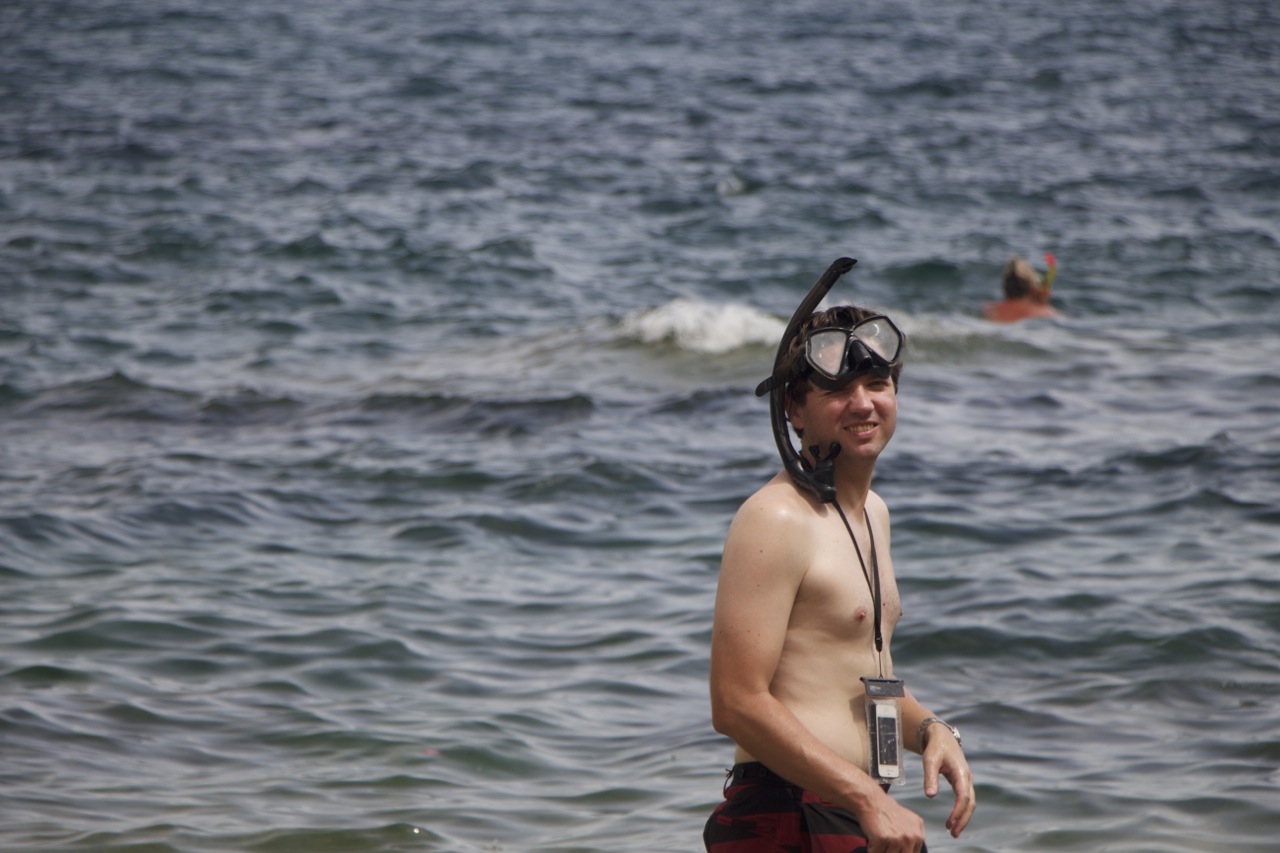 Lunchtime we headed back to Mae Haad Bay for some Tom Yum Gung (hot and spicy fish soup) and Curry Squid on the pier.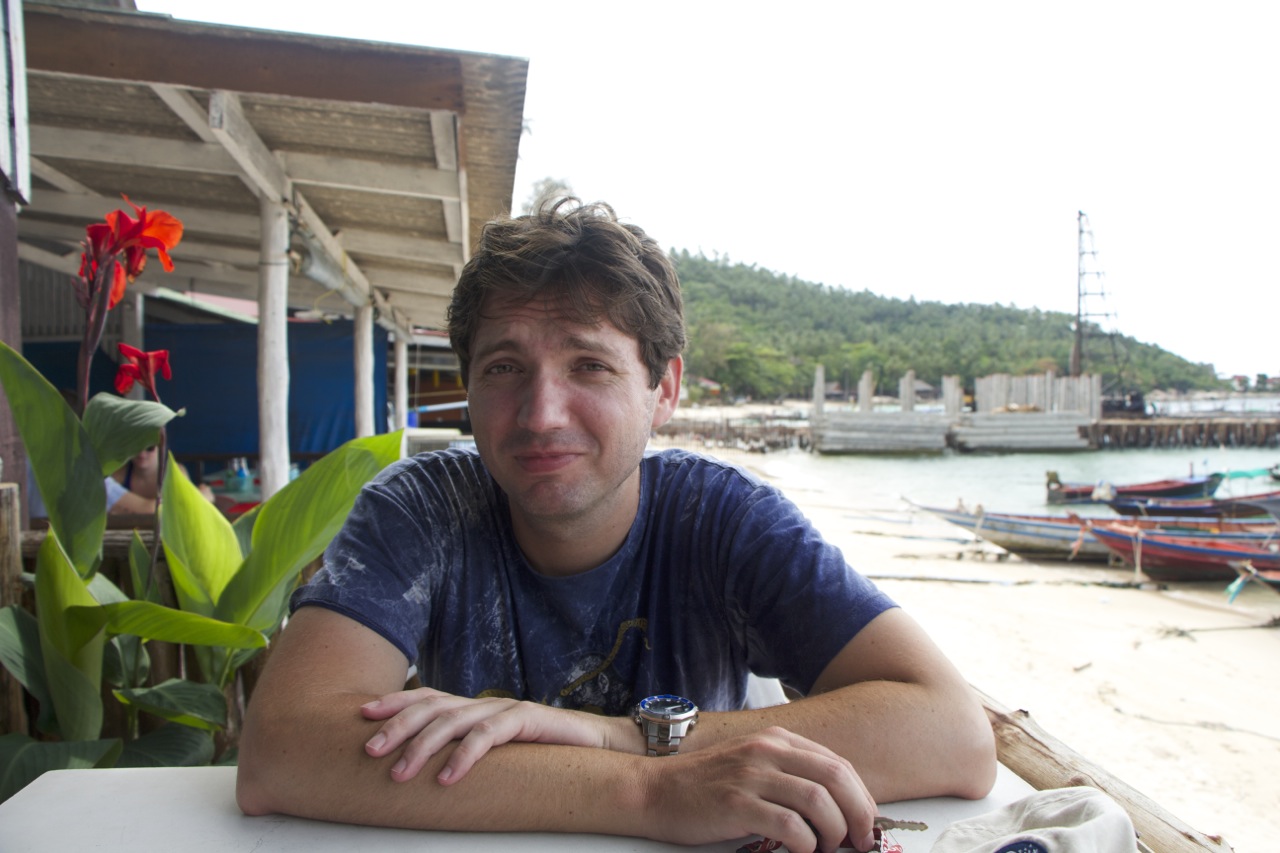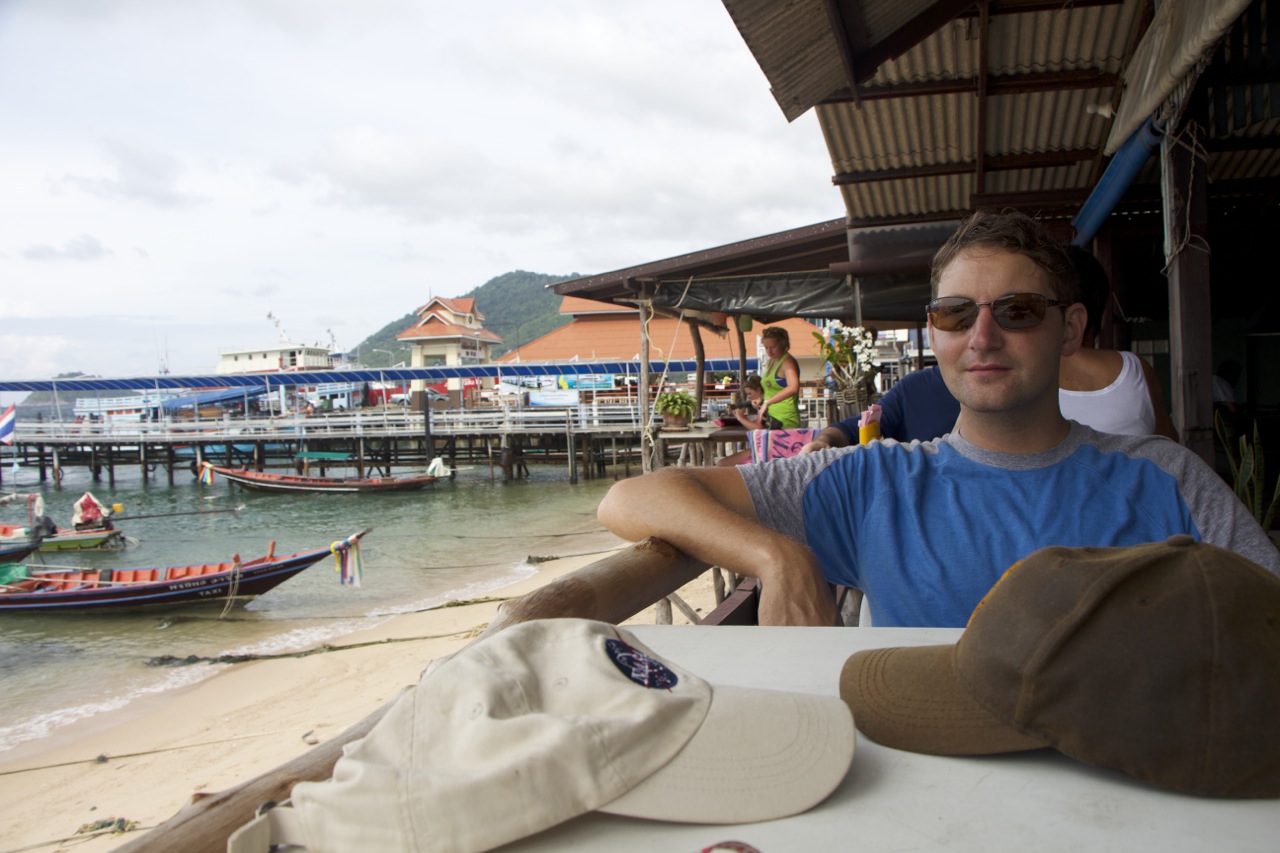 After a hot day in the sun, it is always good to grab a nap at the hotel. In the afternoon we headed out to Chalok Baan Kao Bay on the southern side of Kao Tao. The beach here is sloped down gently into the shallow water and a few boats are moored here. As we walked down the beach we found our way blocked by the "Bar Next Door" and decided to stop in for a G & T or three and watch the sunset over the bay.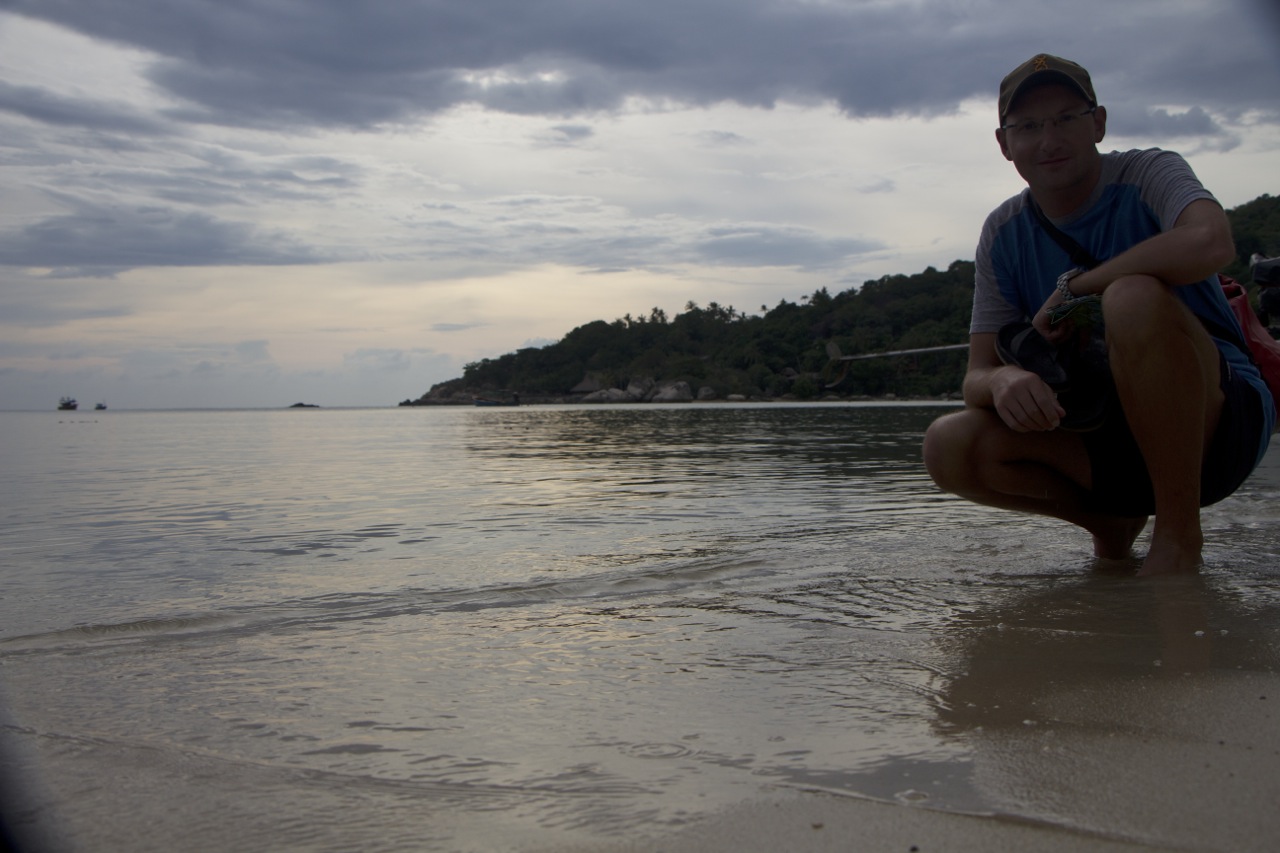 \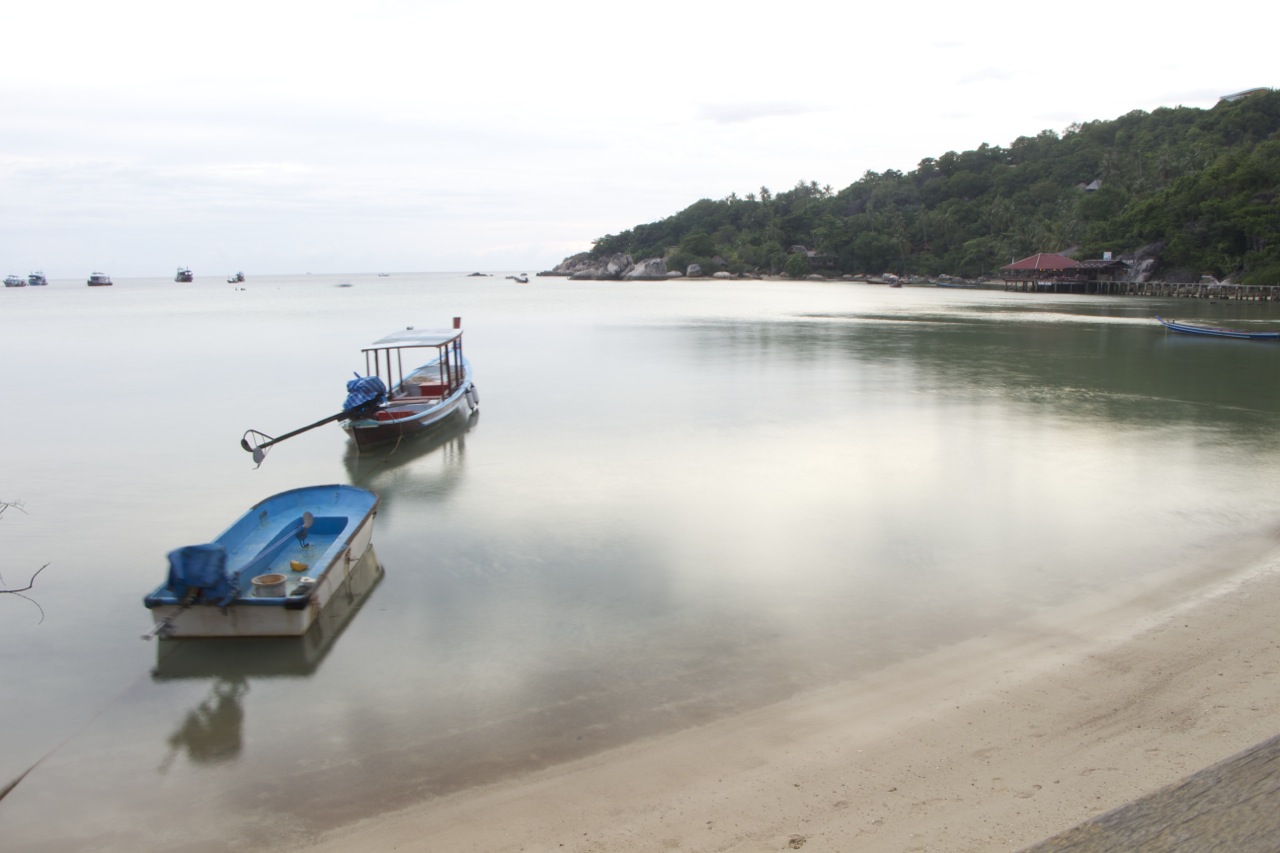 The last thing I remember was we landed upon cushions each with a beer on the beach watching a fireworks display.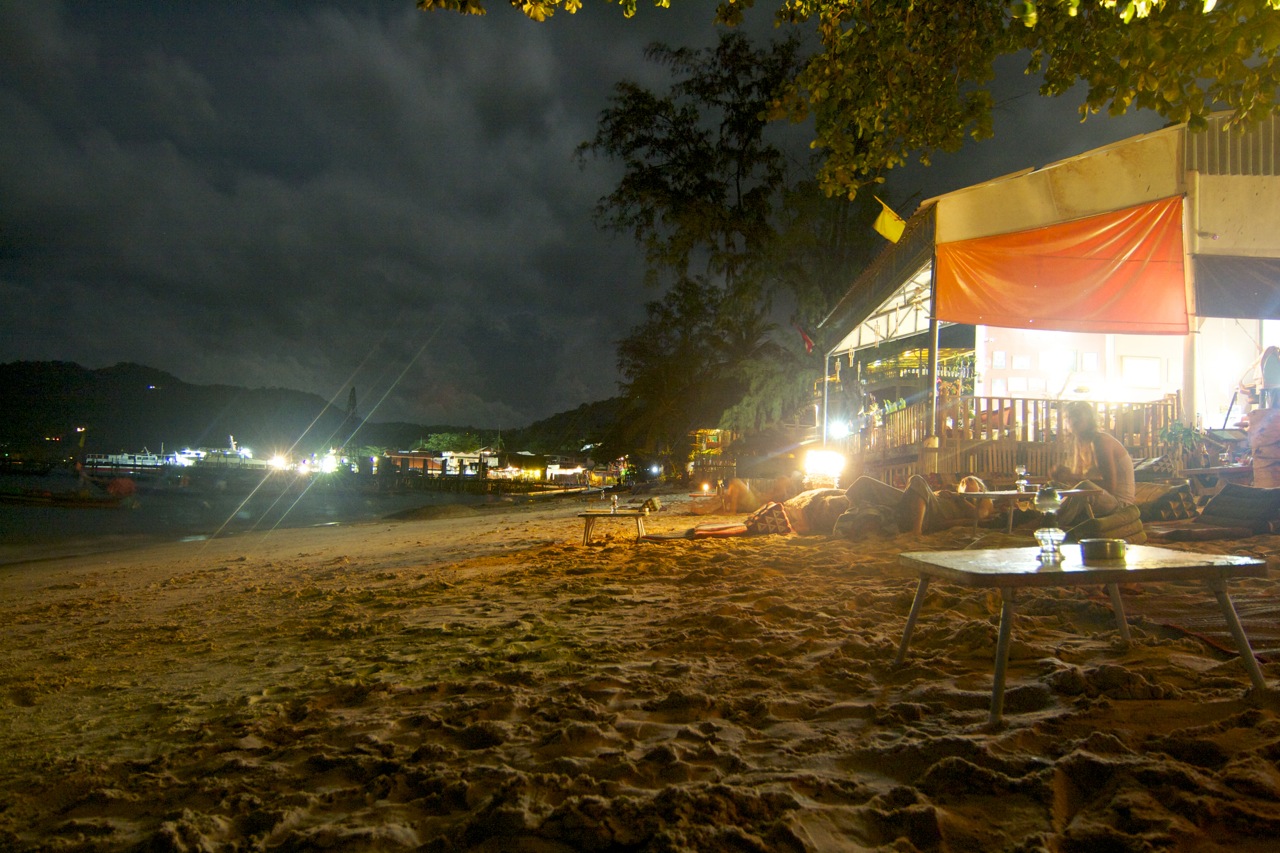 Day 2 – Exploring the south of Koh Tao
Waking up to a rainy island is something you always expect. At 9 am when we left our hotel there was still a slight drizzle. Restaurants on Koh Toa sufficiently cater for western tourists with bagels, croissants, cheese and pizzas. I do think my brother Bernard would enjoy Koh Tao a lot as most other places in Thailand is known for its copious amounts of chillies.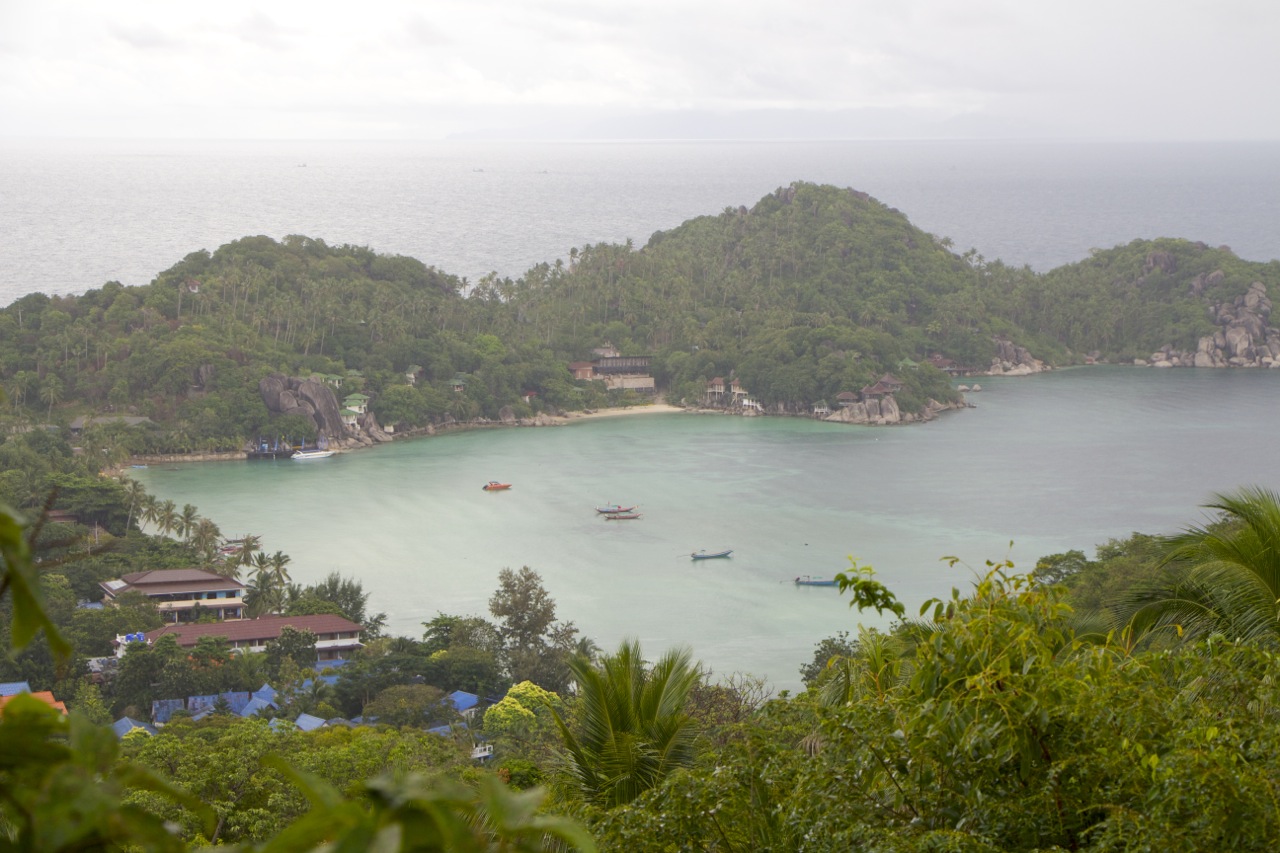 In the rain, we headed to the Chalok viewpoint which promises a stunning view over the Chalok Baan Kao Bay. Navigating steep uphills on a scooter is quite the feat but Marius does it like a professional. I even gave him my Scooter Expert stamp of approval as he managed to keep us upright all the time.
This viewpoint is not where it is supposed to be on the map, but we sneaked in between the communication towers and was still able to get a fantastic shot of the bay, in the rain.

More down the road to the south is the small beach of freedom bay. It is a beautiful small beach situated right by the Buddha Rock. To get there drive to the end of the road by Chalok Baan, walk the little uphill and then follow the stairs down to the beach. Be careful as these steps were made for giants. Also, ensure you have your snorkel and flippers with you as it is a perfect snorkelling spot.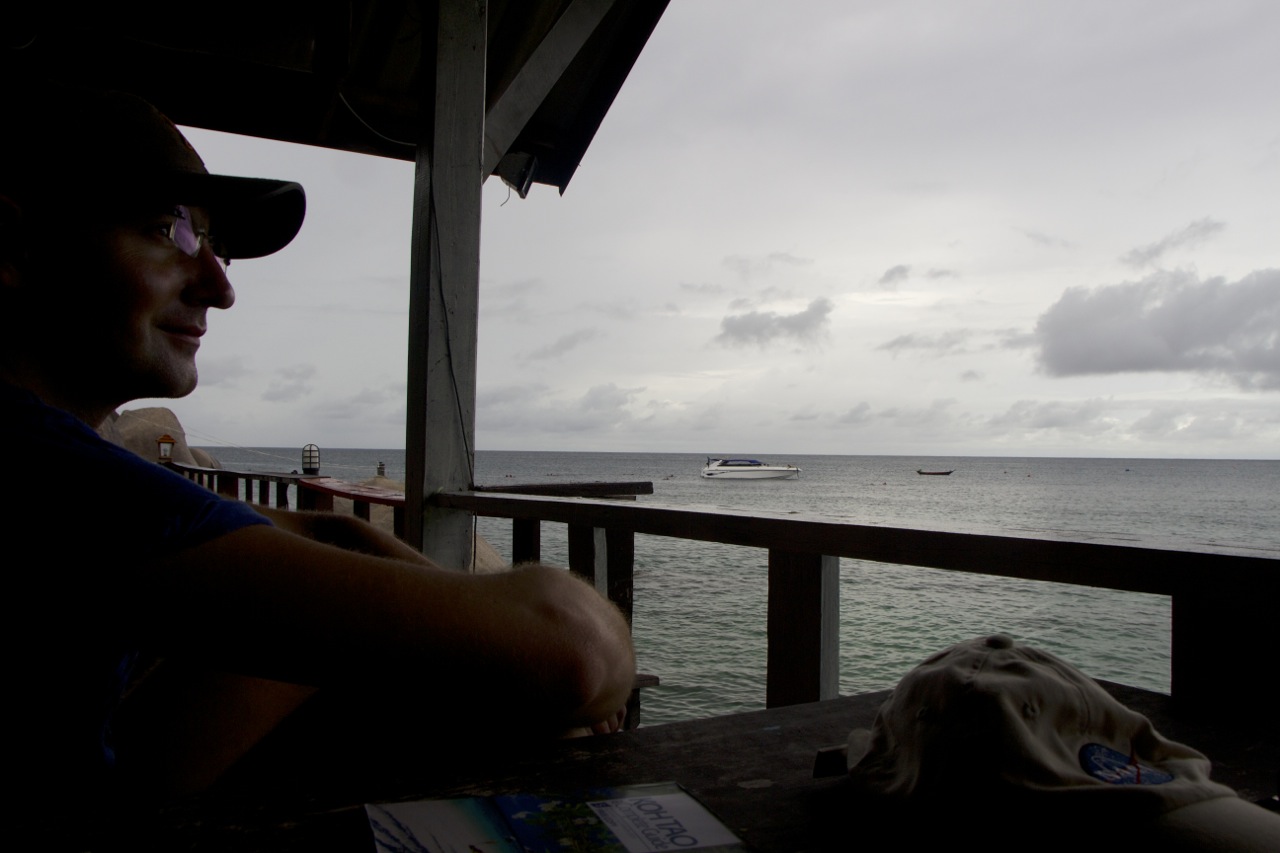 We had some excellent smoothies at freedom bar while watching a tour group snorkel around Buddha Rock.
Sai Daeng Beach is located in the south-east part of Koh Tao, a hidden gem on the island. Marius found us a spot under a tree where he played some tunes on his phone while reading his book and sent me snorkelling. I also eventually figured out that I should just set my iPhone to record video rather than try and capture photos under the water. Be sure to check out my underwater video below.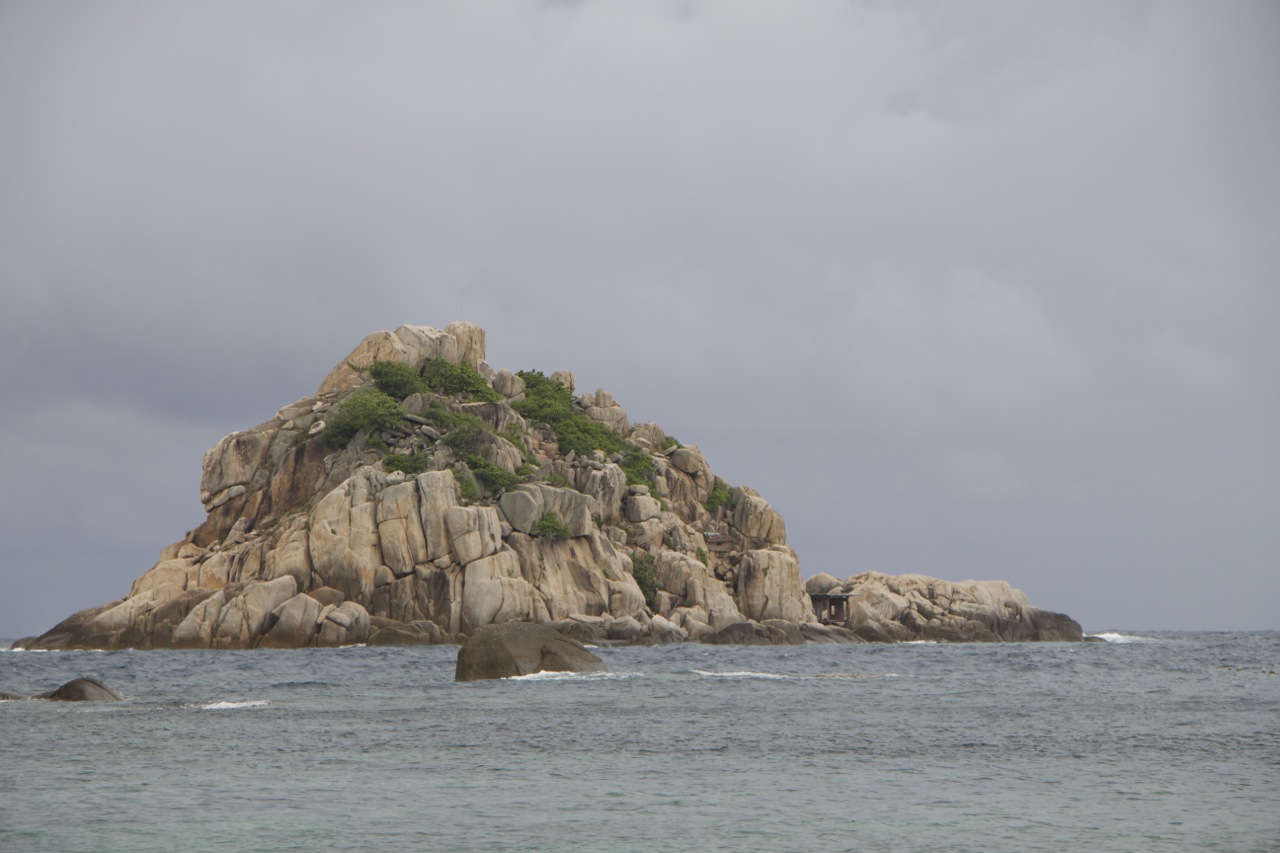 Sitting on the beach and having lunch is just one of the amazing things Thailand offers its visitors. Before we retired to our hotel we head out for a beer while watching the ocean and islands around us. We hope to return to Koh Tao in the near future. The next morning we would be heading to Koh Phangan just in time for the Full Moon party.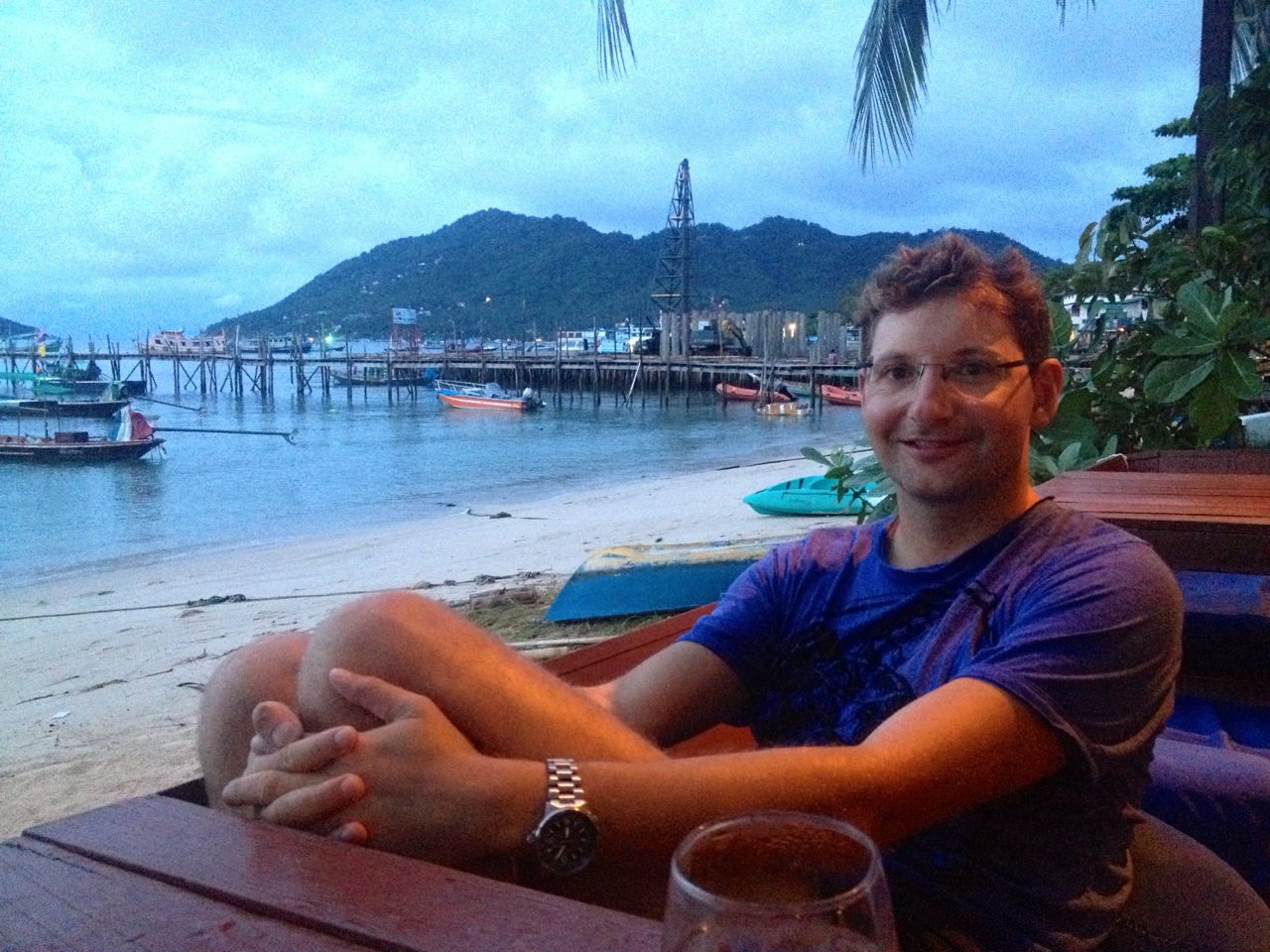 TT