Talca is a large city situated inland on Ruta 5, a highway connecting the north to the south of Chile. Rather than taking the easy and long coast route we opted for the more direct route, a 100km dirt road experience via La Pampa, Paredones, Lolo and eventually back on the tarmac at Santa Cruz.

– Andes mountains in the background, Talca ahead!
The experience was phenomenal, and the views over middle Chile is just breathtaking. Averaging between 40-50 kph we drove through the most scenic landscapes. The ride was flawless although there were a few close calls with the ground.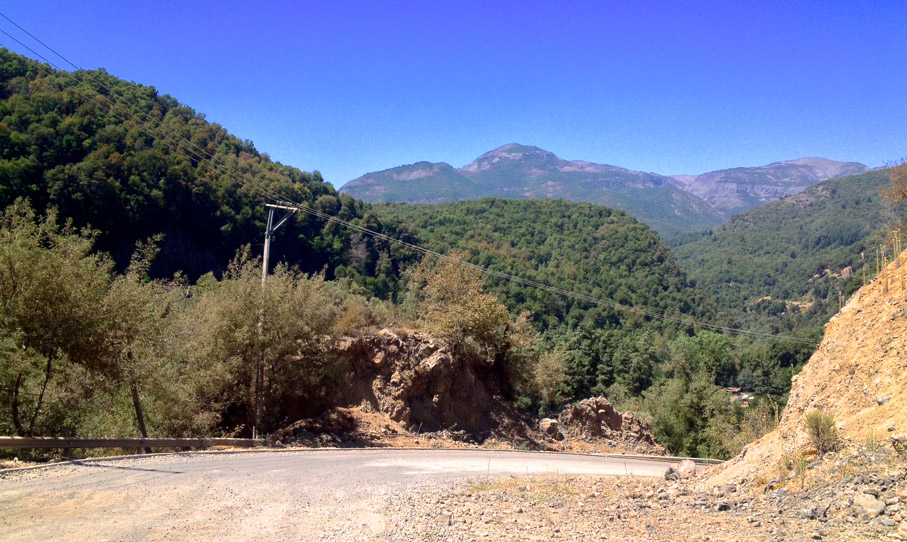 – A dirt road leading into Radal, very steep
Marius was leading the way and navigating and I had a hard time keeping up. The dust was tremendous and by the time we reached Santa Cruz I was completely covered in dust. From Santa Cruz to Chepica we had some Empanadas, yes folks that is what we eat these days, at a small roadside restaurant.

– Marius took this amazing picture of Talca, see the volcano in the back
Trying to stay of the 5 we eventually made it to Talca. First stop was a sidewalk café in town for some Cappuccinos, Jim they really need Starbucks here, to get our gear in tow. We opted to spend the night in a high rated Cabaña and were not disappointed. Called Tourismo Stella they are located right in the city and had a wonderful pool and breakfast.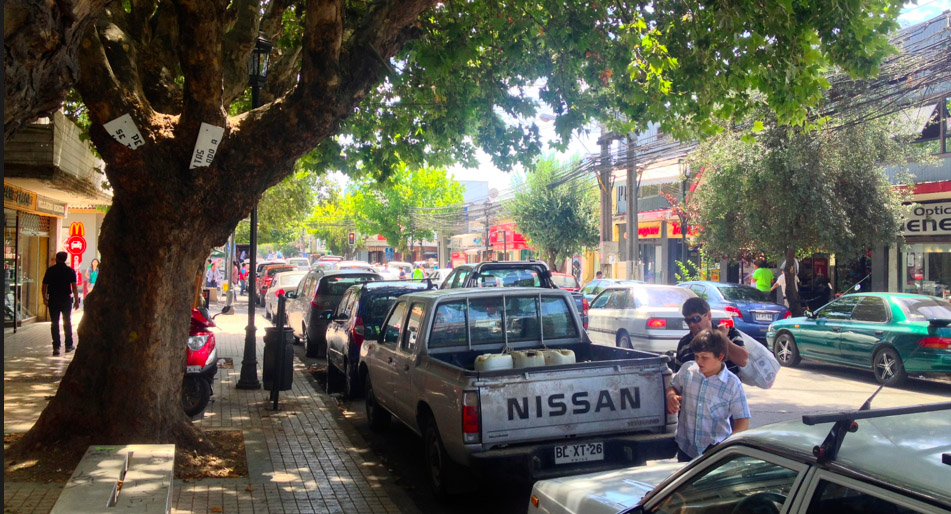 – City view of Talca, my mom always wants to know what the city looks like.
Interesting fact about Talca is that a lot of the buildings were destroyed by the 2010 earthquake and had to be rebuilt. But the city is still a tourist gem and we were surprised to get a map with all the tourist areas. I love Chile for this, each city has a tourist map with all the restaurants, fuel stations, tourist locations and lots of other stuff laid out.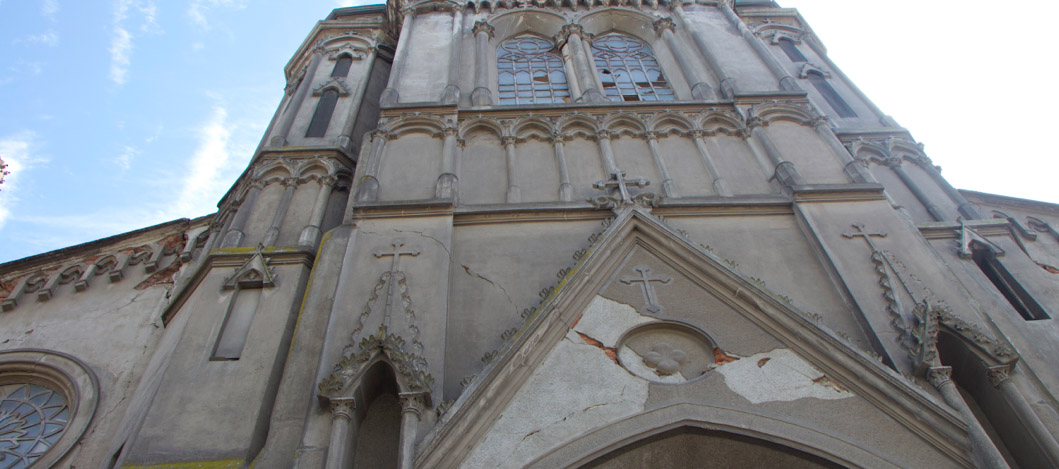 – Iglesia San Juan de Dios
Marius just loves it when I take him from tourist spot to tourist spot and go "Did you take a picture of this? Did you get one from this angle?" Eventually, I get the evil eye and just continue on to the next interesting item on the list. I can bore you with detailed descriptions and history of all the sites, but below are a few pics and names of the spots – go wiki them yourself.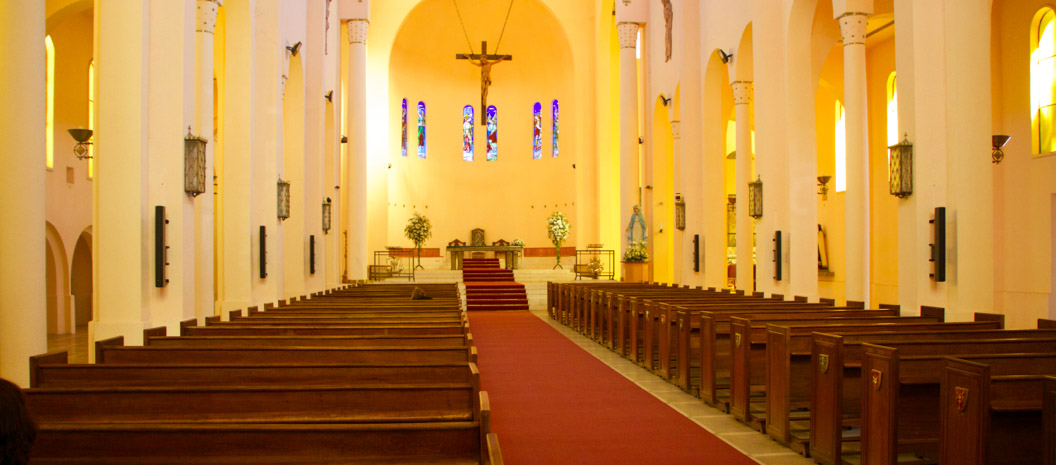 – Inside Catedral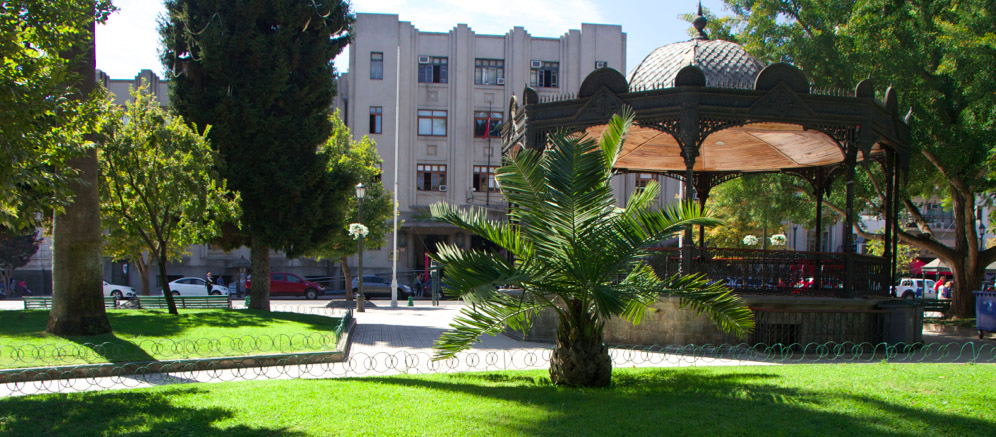 – Plaza de Armas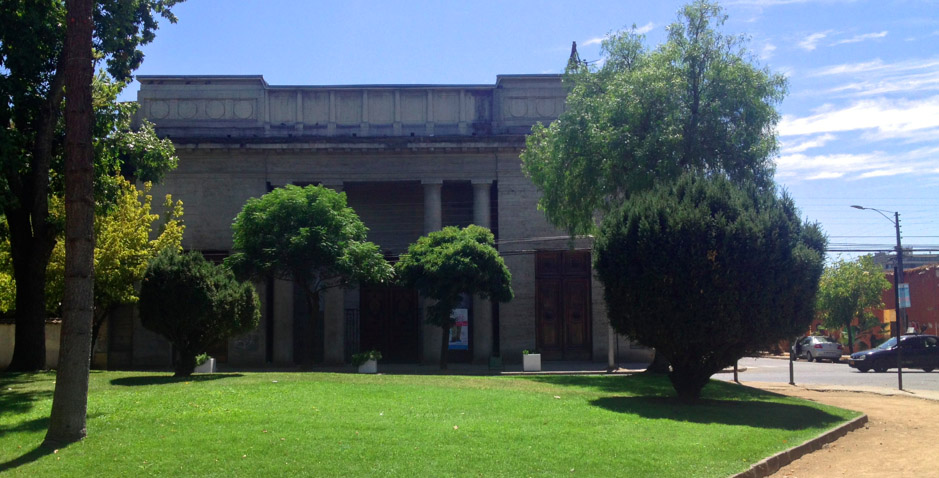 – Iglesia San Agustin
Marius forgot his knife on the dinner tray on our trip from Buenos Aires to San Luis so he had to get a new one. Talca has a great mall, although not a 10th the size of the malls in the US or SA. But we did get to do a bit of shopping which is always fun.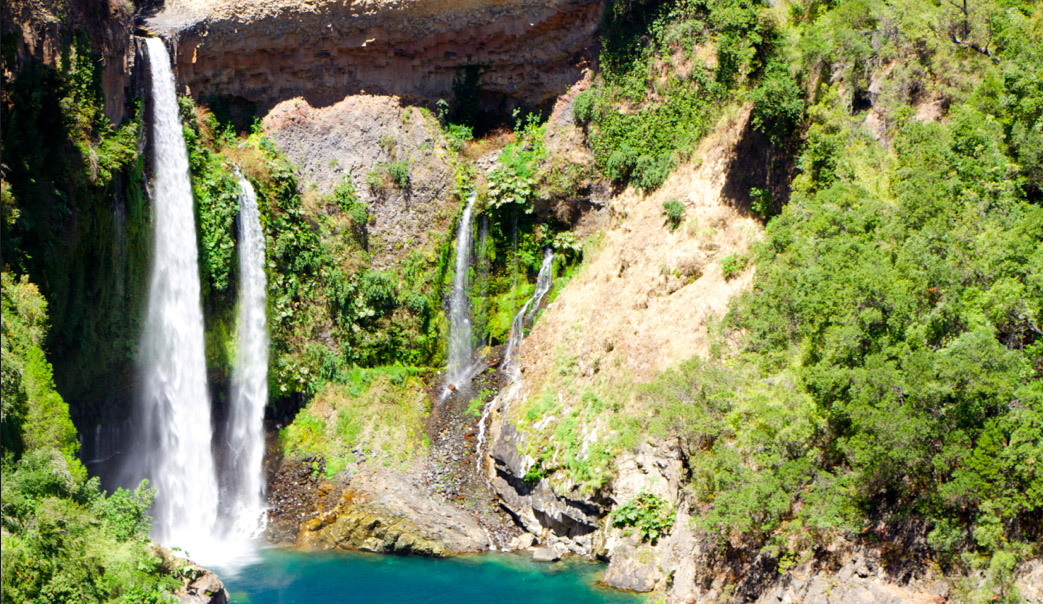 – Salto Velo de la Novia
Talca is situated at the foot of the Andes and has 3 volcanos around it. I know Mom we will be careful!! So we headed out towards the National park, did our own bit of Dakar and arrived safely at our home for the next 2 nights at Parque National Radal Siete Tazas. Home of Volcano Desabezado Chico and Grande as well as Quizapu.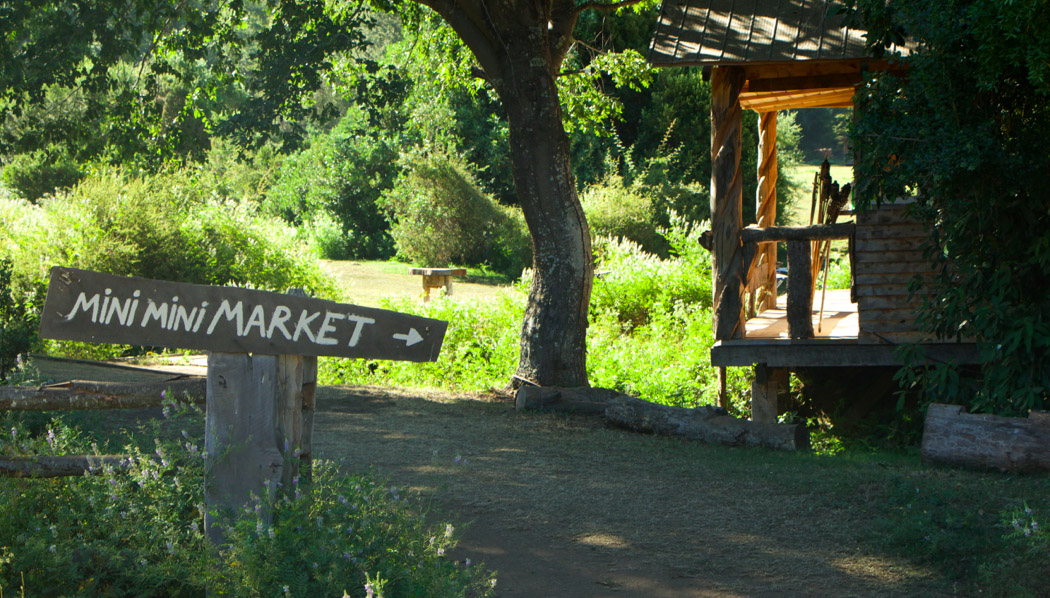 – The Miniest mini Market at our camping site, they did have pancakes though
The first thing that got to us is the fine volcanic dust that is all over the roads, although the bikes did extremely well and we were extremely filthy the Waterfalls was super amazing we did some trekking and had the most stunning views over the Andes mountains.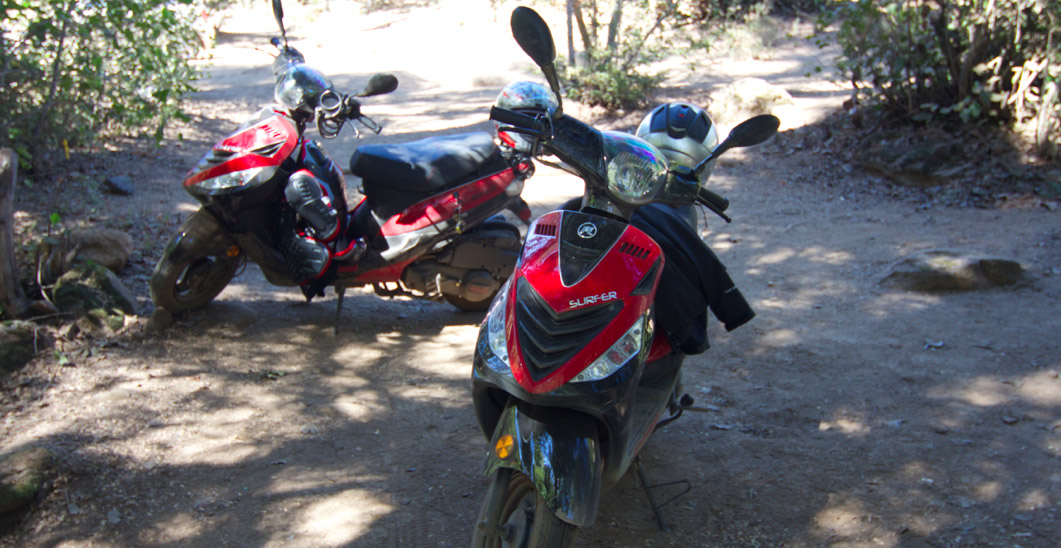 – Scooters after a hard day and slippery sandy roads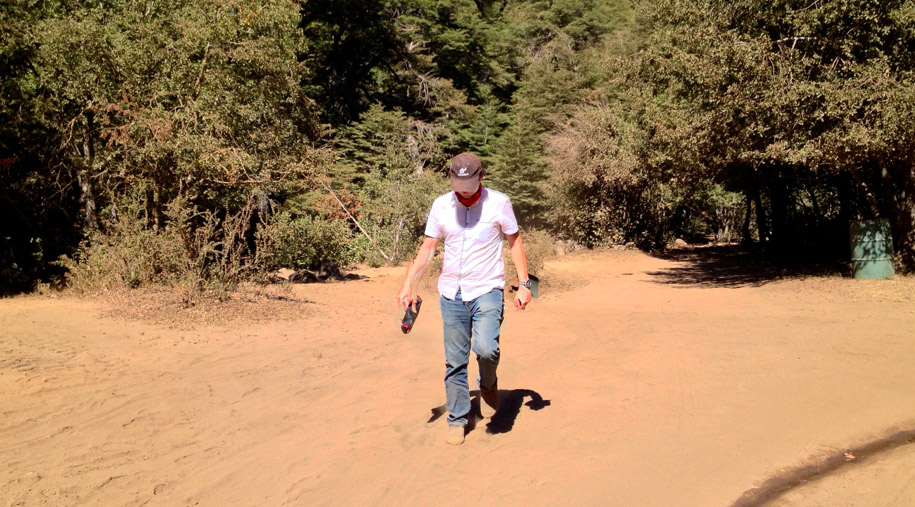 – Volcanic sand puffing up around Marius's feet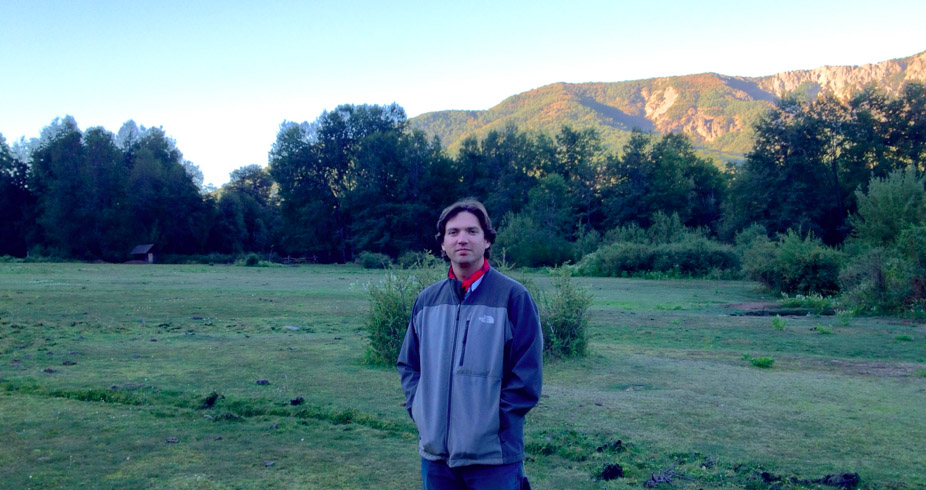 – Marius Getting ready for sunset trekking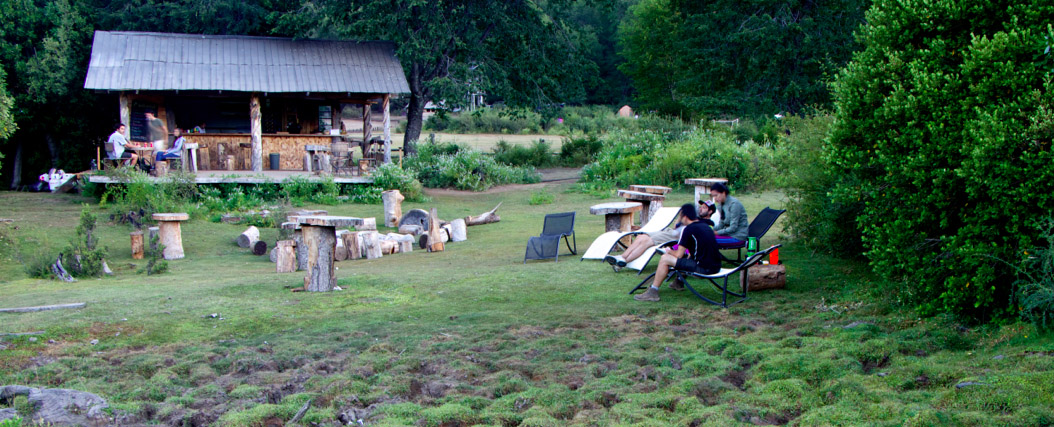 Our first night we nearly froze to death in our tents but made up with it by some extra padding the next night. Our journey now leads us further south and a bit back to the coast.

– Our campsite, fire going

Our journey back to Talca the backs slipped from my bike and Marius's bag got a huge hole burned in. He lost a sleeping bag, a shirt, a few pairs of underwear and a pair of shorts.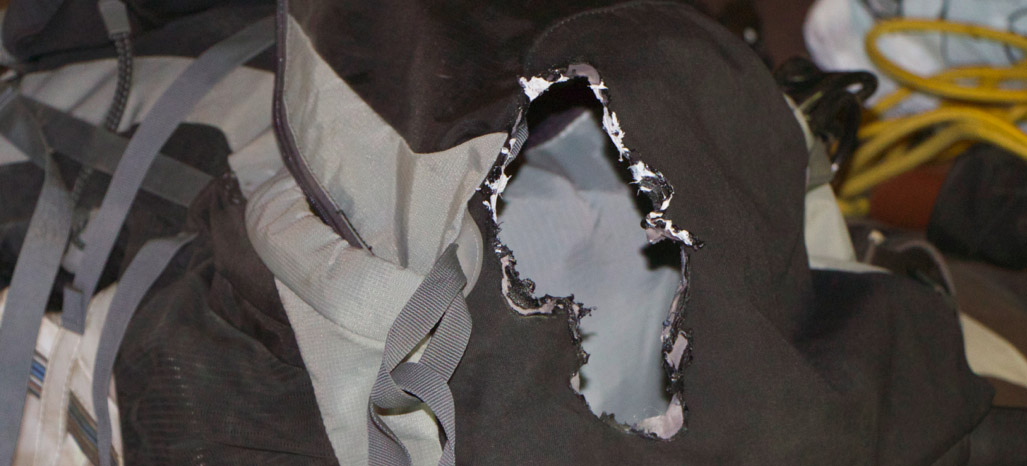 – 10cm X 10cm hole burned into Marius's bag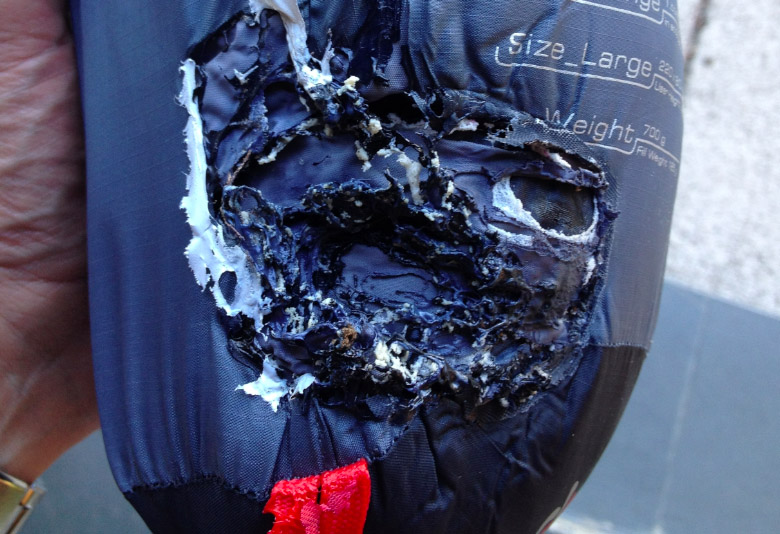 – End of a really expensive sleeping bag, it just could not handle the temperatures 😉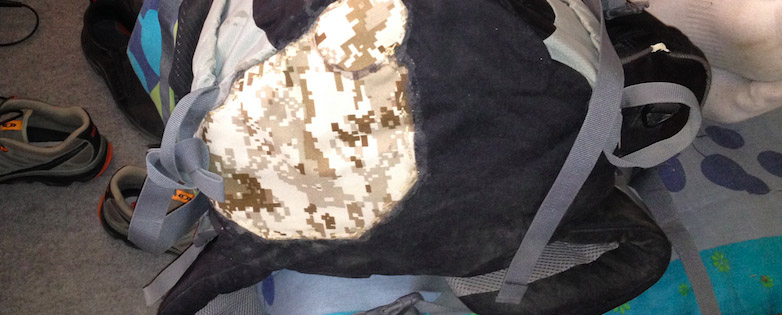 – Excellent repair job, done by Marius & Theunis! We could not find black canvas so now it has a bit more character.
We made a great friend in Talca, Mauricio a clever English university student and friend that helped us sort out the repairs to Marius's bag. Thanks again for showing us Talca, watching Robocop and being a great friend.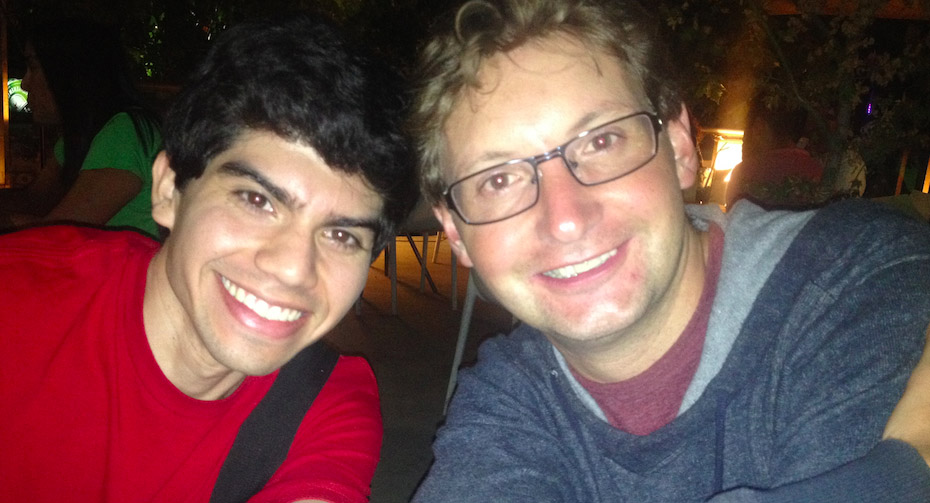 – Mauricio & Trip
Trip out!