We left La Boca towards Pichilemu on a misty and chilly morning. All gear fastened and secured we headed through the city of Navidad, Rapel and then started southwards via Litueche and El Peumo at Las Dama. The environment was changing rapidly and from almost no trees the hills came alive with rich forests and the temperature became nice and warm.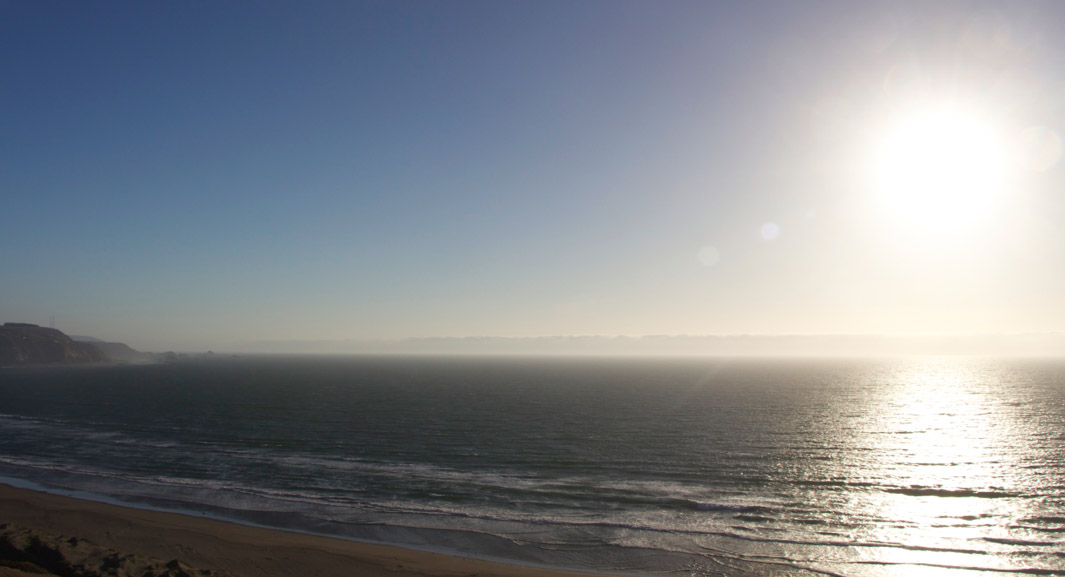 – View over the Pacific ocean from La Boca
We were extremely lucky to have great tared road and only light traffic. As we turned towards Pichilemu you could see the cloud cover on the horizon. The traffic was steadily getting more and busier and the weather was chilly and cloudy along the Pacific coast.
The city of Pichilemu is world renowned for its incredible waves and even in Chile, it is called the surf capital. It has a few amazing beaches that stretches the whole town and many tourists flock to the town for them. The most visitors are from San Fernando and a few from Santiago.

– A real Lama on the main beach at Pichilemu
We have been itching to try out our new 360 Degrees 2 sleeper tent and Deuter sleeping gear so we headed towards the information booth located in the centre of town.
The friendly girl enjoyed trying out her English and Marius could really go all the way using his Spanish with a few tips here and there from her. In no time she recommended the best camping site right on the border of town and we were on our way.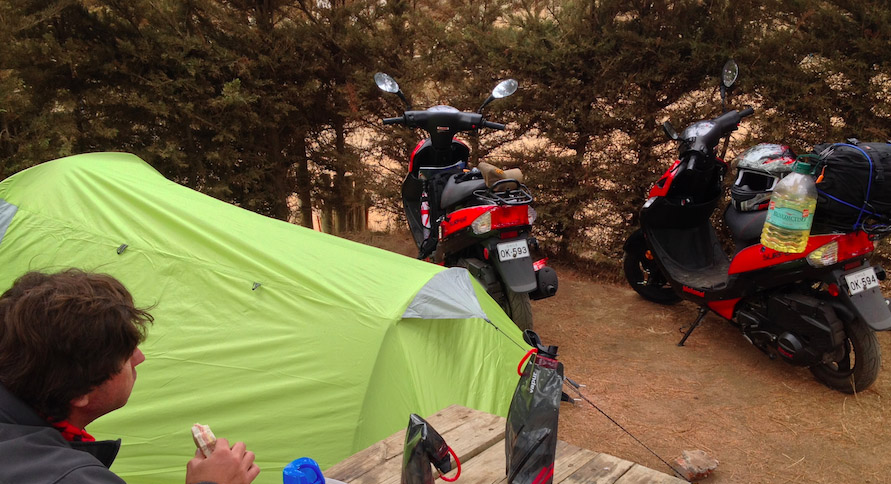 – Marius enjoying a ham and cheese sandwich, our 360 tents in the back
The little campsite was magnificent with all the amenities anyone could wish for at a campsite. We quickly set up our tent and unloaded our gear and headed into town for some much-needed beach hopping.
Pichilemu is a small but busy seaside town and you soon learn that no matter the weather nothing holds back the surfers. The main street, next to the beach, is lined with surfer training, wetsuit rental and shower places. The beaches are crowded and the sea is filled with surfers waiting to catch the next big wave.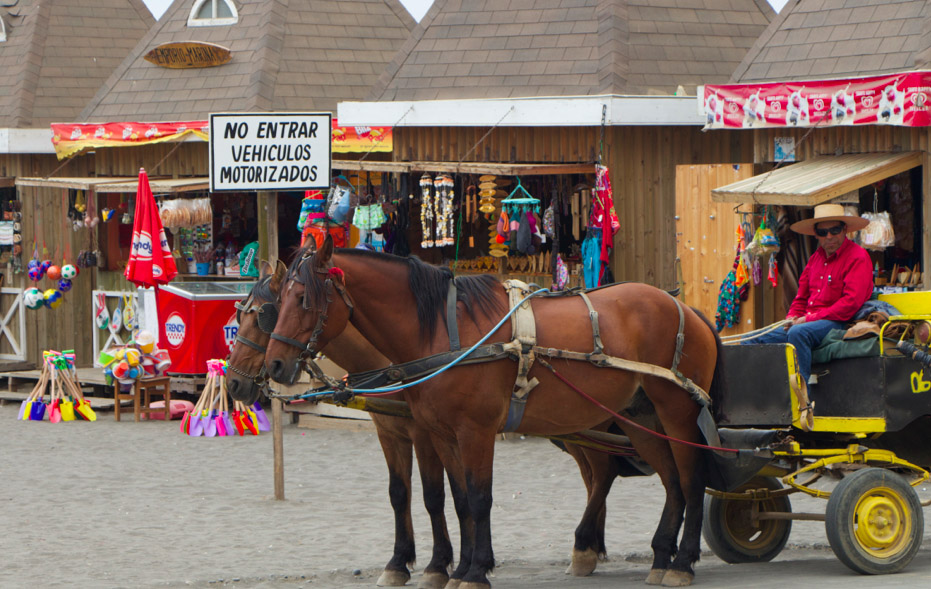 – The main beach, wanna go for a ride?
We needed our internet fix and found this lovely little tea shop with high-speed internet on the main road. While drinking cup after cup of delicious tea and sharing a piece of the most divine custard cake we surfed the World Wide Web just like our compadres on the Pacific Ocean.
Carnicerias or Butcheries are available on every street and sometimes there are more than one, heading into a not too busy one we spotted an excellent rump we requested the butcher to cut us two 2 inch slices.
Armed with all the ingredients, including Cervezas we headed back to our campsite for an early evening by the fire.
Seeing that Chileans have no idea about fire-starters Marius used a combination of candles and cardboard to get our fire going. He is just so brilliant ;-).
The weather in Chile is extremely weird, from coast to inland the temperatures is high during the days but drops sharply during the nights. Since we have been in South America for almost 2 months now we also have not experienced any rain.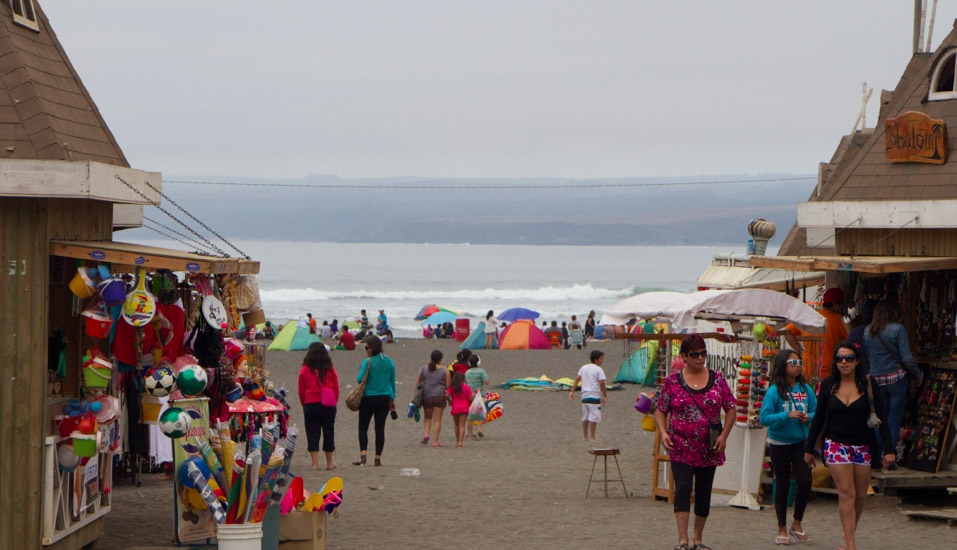 The next morning we were up early and after a hot shower and some Ham and Cheese Sandwiches and Marius geared with his camera we headed to the beach. I immediately spotted my favourite snack by now "Churros", although I still have some issues pronouncing it correctly, at a little vendor on the beach making it freshly. We parked under a nice shady spot reading our kindles and eating "Churros". They were magnificent.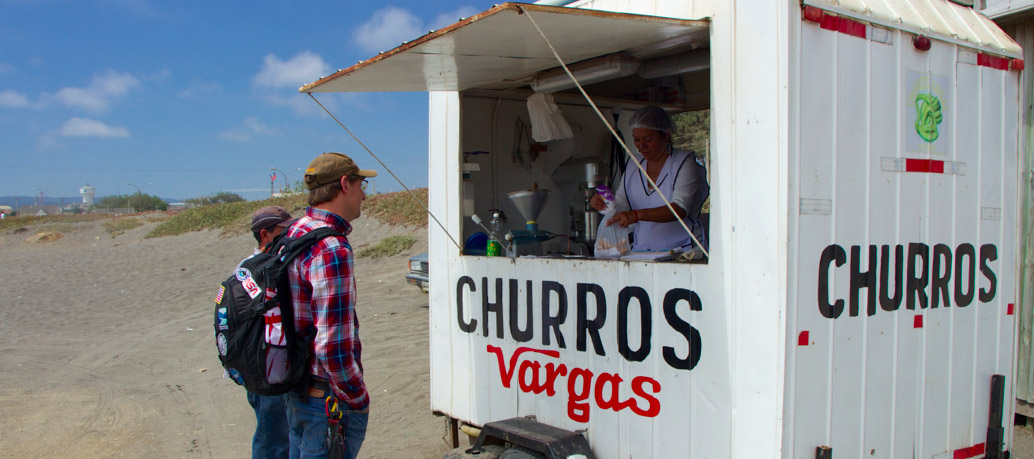 – Theunis favourite Chilian snacks
After a brief walk it was time for lunch and our quest began to find the best Empanadas in Pichilemu, according to the Lonely Planet it is called "Casa de las Empanadas" or in English "Home of the Empanadas – or fancy pies". After two hours and a bit of a ruffle between Marius and myself, we found the little spot. It was crowded and we had to wait over 30min for our Empanadas.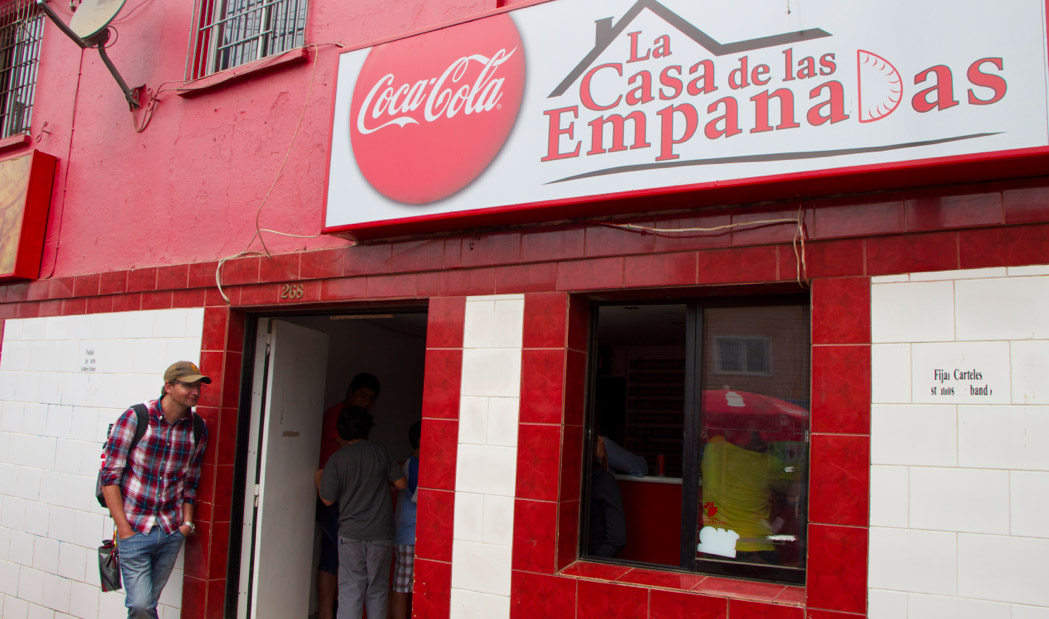 – Theunis waiting for our turn in the queue
We elected to go for the marina option with cheese. Empanadas in hand we headed to Parque Ross and it was well worth the wait. They are definitely the best Empanadas in Chile, well so far.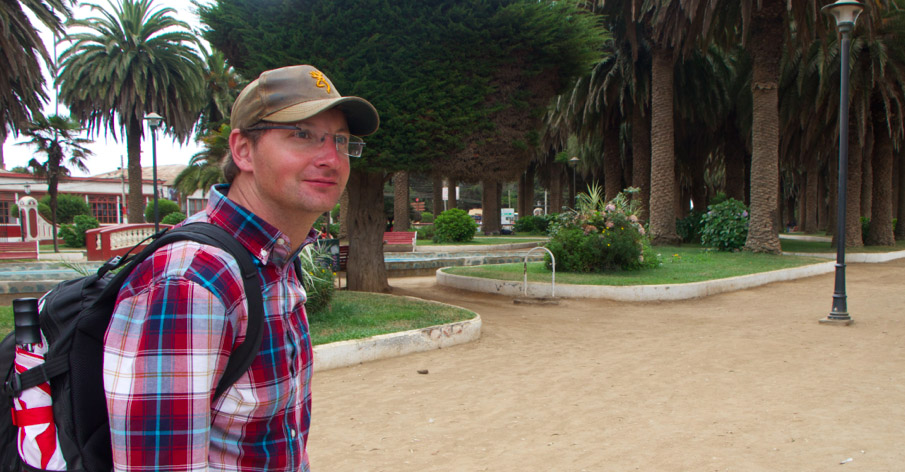 I still find it super weird looking at all the people making out in the parks. Again while we devouring our Empanadas there were a few couples making out around us. It is like watching a Romantic movie every time. Really find a tree somewhere!
A drive around Pichilemu confirmed to us that wherever there is a wave or a beach there are a lot of surfers.

Gracias Motomel, our surfers are performing exceptionally!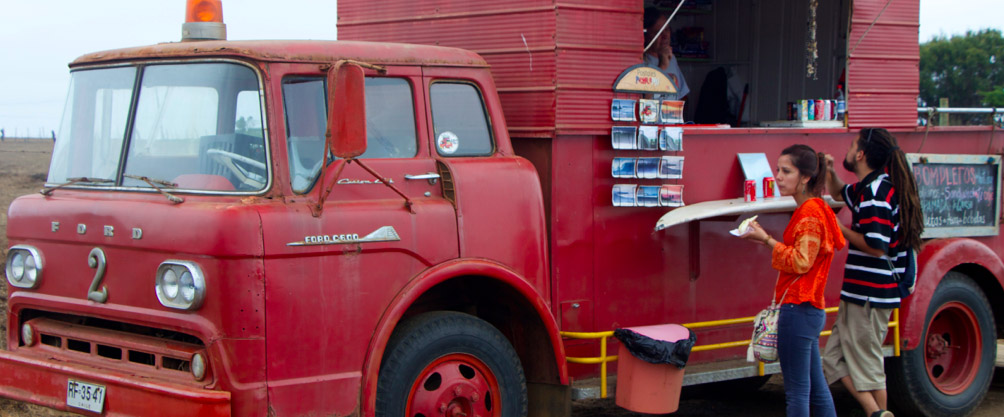 – Empanadas food truck
Next day and a great time behind us we head inwards towards Talca.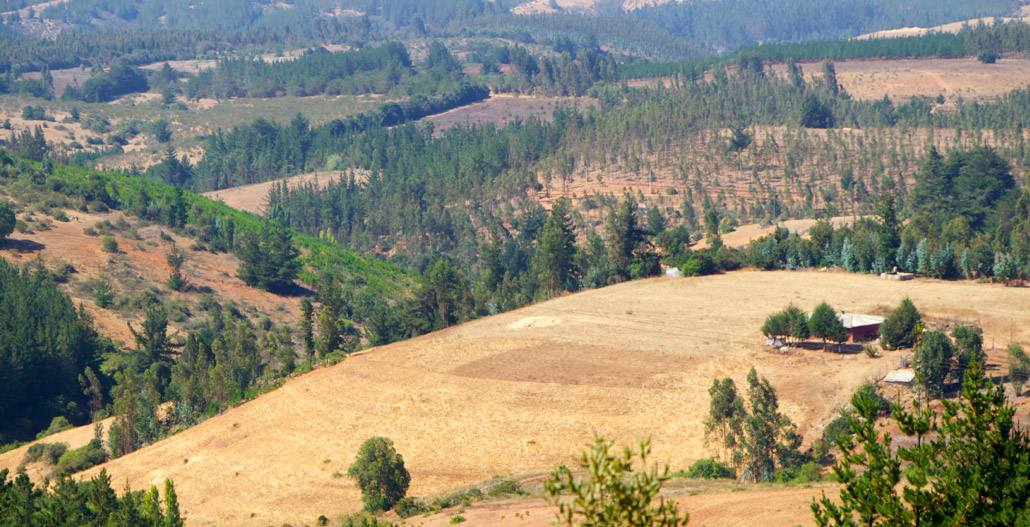 – From Pichilemu heading inland, an incredible view.