We decided to head out on Friday the 14 February 2014 to Pichilemu from Valparaiso on our Motomel Surfers.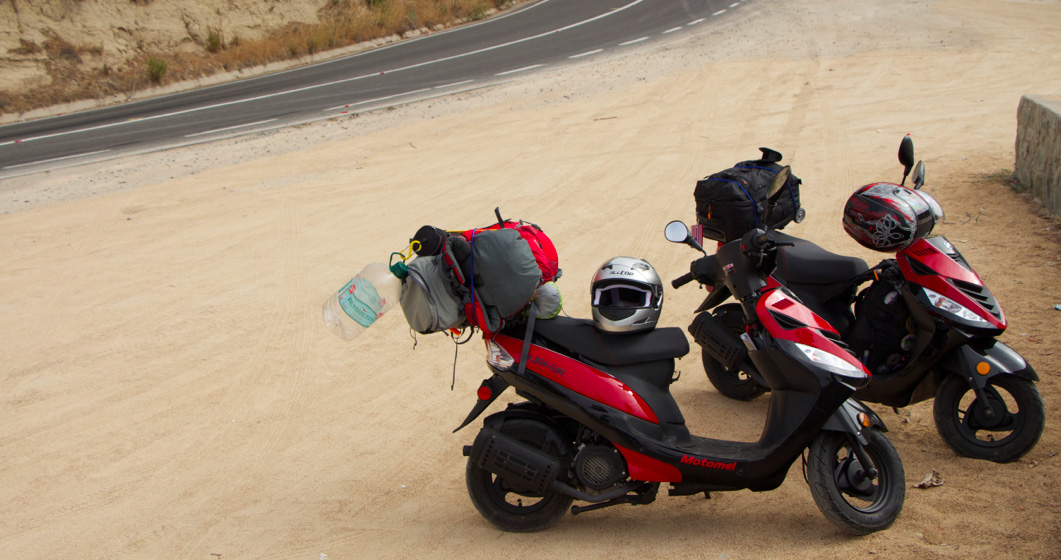 The gear:
2 x Motomel 125cc Surfers, 2 x Alltop full face helmets, 2 x Off-road protection jackets, 1 x 6-litre water bottle with extra gas, 2 x Notebook and camera gear bags and 2 x Deuter 40L +10 backpacks.
We mounted the two backpacks back to back on the back of my scooter with elastic strap-hooks and Marius had his camera bag strapped to the back of his bike and my notebook bag between his legs. First I headed off with the extra gasoline between my legs but after a bad start, we hooked it with a G-clamp to the back.
At 9:30 am we left Labatorio 00 and Valparaíso towards Pichilemu (Pi-chile-mu), during the first part of our trip it was quite the bumpy start and we had to get used to the extra load and Marius's camera bag came loose twice. We quickly learned how to fasten it better. The gasoline between my legs went flying on a turn and I had to do an emergency stop to save what's left. (Thus the G-clamp).
After the slow start, we eventually had everything going and enjoyed the countryside. People are friendly and most cars give a lot of leeway for bikes. Our pace was good and we could easily average between 70 and 80 km per hour.
The landscape was picturesque and we drove through a few coastal towns and mountain passes. When we arrived in Algarobbo the traffic slowed down tremendously and we were stuck in the seaside traffic. We had some pre-packed lunch (Ham and Cheese sandwiches) an water – Nicola just loves the Vapur bottles you got us -enjoying the beautiful view over the coastal town and beach.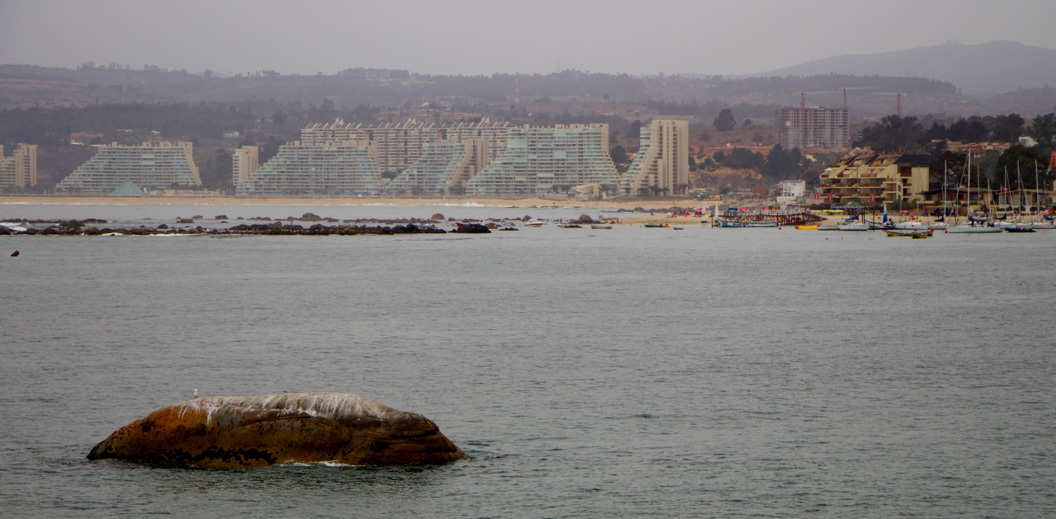 The traffic continued through El Quisco, El Tabo, Cartagena then got really bad in San Antonio. The delay got the best of our timing and by 5 pm we decided to take the turn off at Rapel towards Navidad and look for accommodation. We stopped at the tourist information booth and were directed towards a place in Matanza, well a few minutes later we arrived in La Boca, thinking that this is where they directed us to.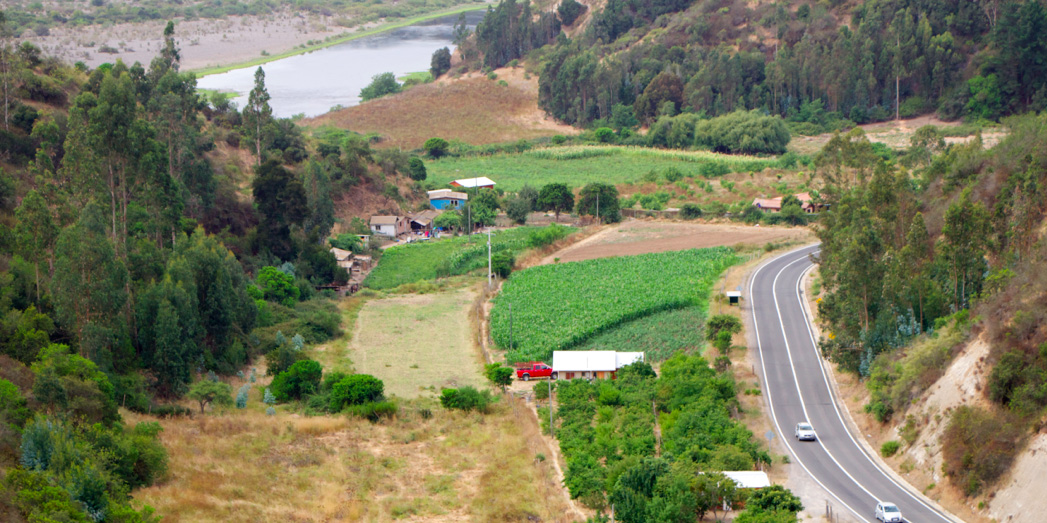 The scenery entering La Boca is just spectacular, and we stopped on the hill overlooking the most amazing lagoon and town.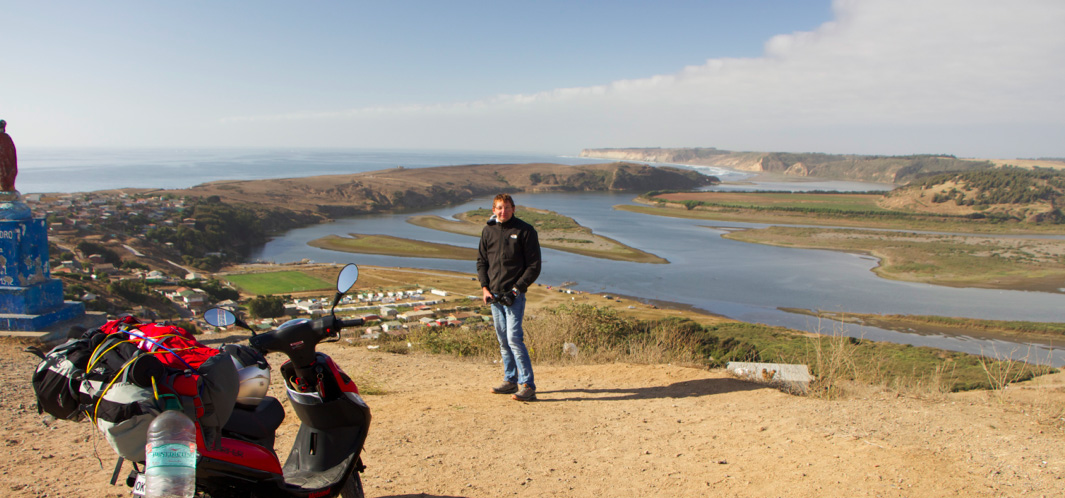 Driving through La Boca we found Cabanas but the lady quickly said they were full but we should come back tomorrow night, mm that does not really help. So seeing the desperation on our cute young faces she phoned her friend in Navidad and he had accommodation for the evening.
So heading back to Navidad, tired and with the setting sun on our backs, we just could not find the place. Eventually, Marius decided he had enough of not understanding the guys' directions in Spanish so we clocked in at a small roadside hotel "Hotel Turismo Residence and Restaurant" it said big on its sign outside.
The owner, a middle age Chilean, quickly helped us in and we had to park the bikes behind his house. This also took a bit of explaining as we could not figure out what he wanted us to do. The room was according to Marius an "it will do", haha, well I would say that I was rather scared getting between the linen and it had multiple blankets – confused – they might be for the winter months.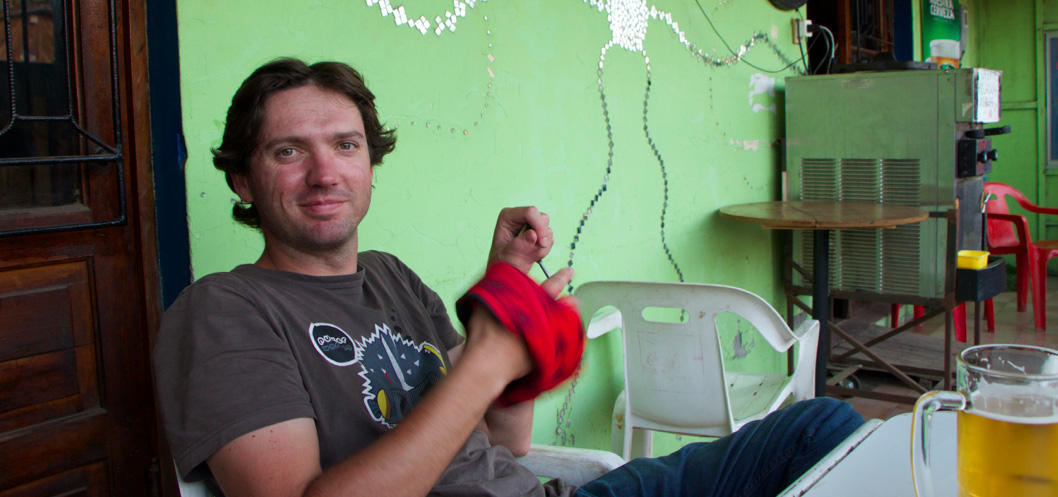 We got out our sleeping bag liners and decided we will rather sleep inside them. The beds had really hard sponge mattresses and the walls were made of paper.
Well at least they had Schop, or draught beer and we went down and ordered two. The restaurant owner wanted to know if we were hungry and Marius asked for the menu. Well, tonight he said he has Empanadas "Chilean Pie" he uncovered next to the bar a whole tray full and wanted to know if we wanted it hot or cold. Not many options left.
Opting for them hot we sat outside on a Saturday evening in the Main Street of a one-horse town and enjoyed our Empanadas and Cervezas.
During the night it got really chilly and we eventually had to pull the big stack of blankets over us. To the moon with dirty sheets, no way we freezing our buts off.
The next morning we decided to head back to La Boca and booked into the Condos. Marius got up the morning and was 100% sure that he fractured his hand, but with a few painkillers, bandage and some Voltaren a few days later it was much better.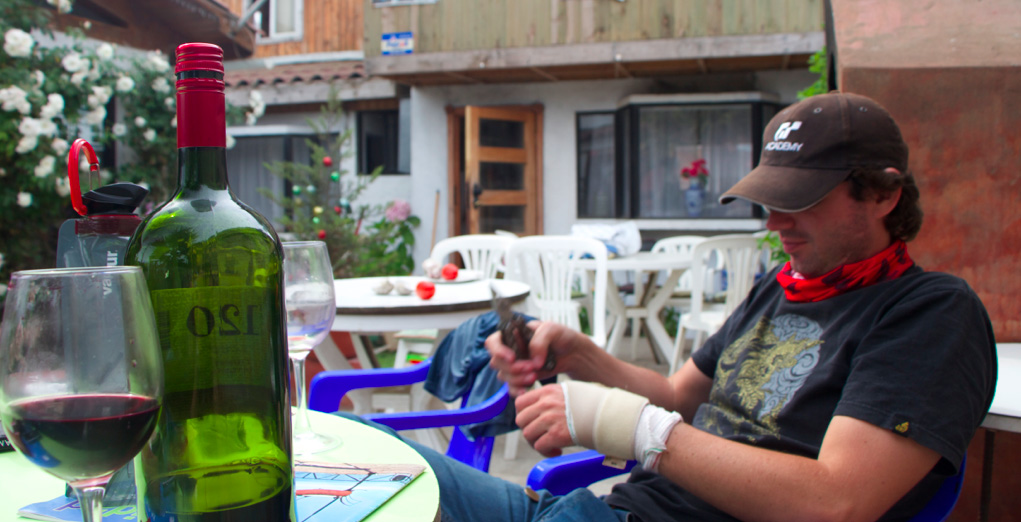 After exploring La Boca, Navidad and over to Matanzas (A much more upmarket surfer town, at a stage we saw more than 30 surfers catching a wave) we stopped at the local Super Mercado and got a bit of vino. Medallion 120 Cab the 1,5-liter version of and chilled at our Cabaña for the afternoon and evening with a great salami.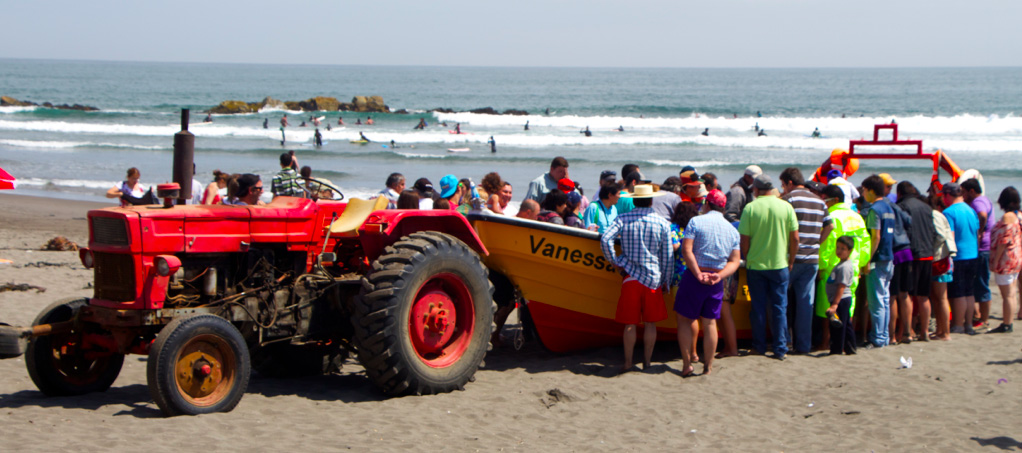 The following day we spend some quality beach time on the black sands at La Boca Beach – A beach in Spanish is called "Playa", bought a bag full of strawberries and peaches and had dinner at a lovely seafood restaurant in the town. PS, like 30 meters from our La Casa (Our Home).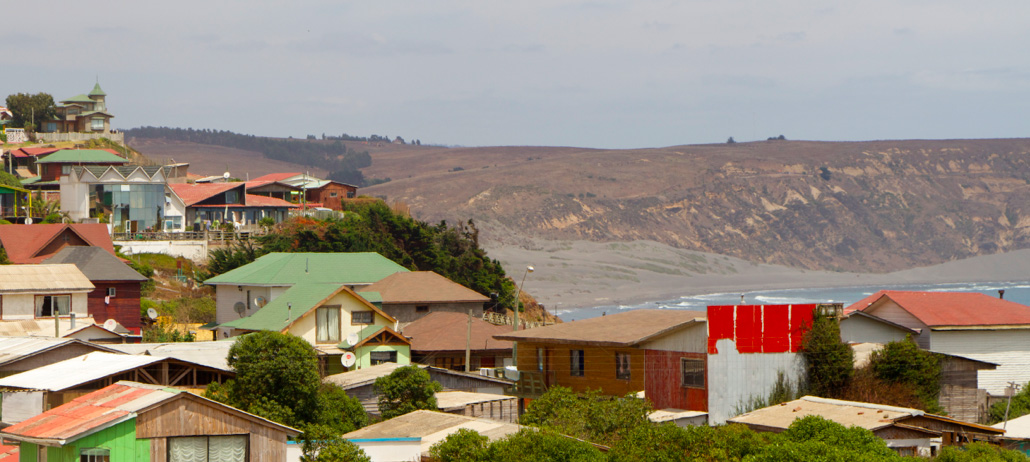 La Boca is located on a cliff with a steep descent on both sides of the town. The main road into town splits off like a fish bone with streets ending on both sides against the cliff. Two roads on the northern side lead steeply down to the lagoon and locals spend their Sunday afternoons fishing and laying about.
The beach is off to the southern side and a steep wooden path leads you down to the black beaches and icy Pacific to be specific ;-). The sand is black and due to the volcanic rock that is present in this area.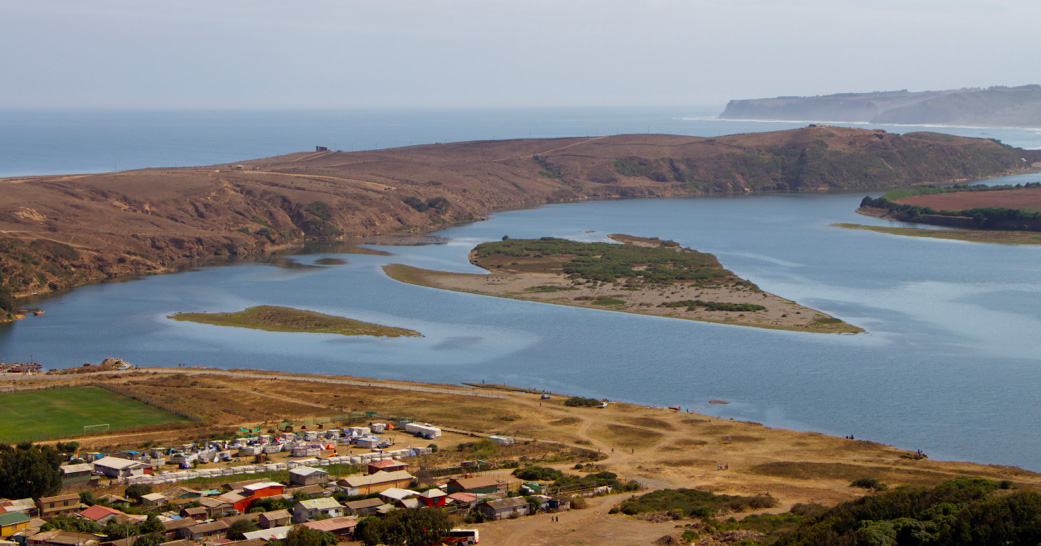 These are small street markets that sell fresh fruit, vegetables and clothes and we also met the only English speaking inhabitant of La Boca. She has been learning English for 6 months and told us how she cried in the beginning. Her sister lives in Austrailia and speaks English and she is going there in a few months.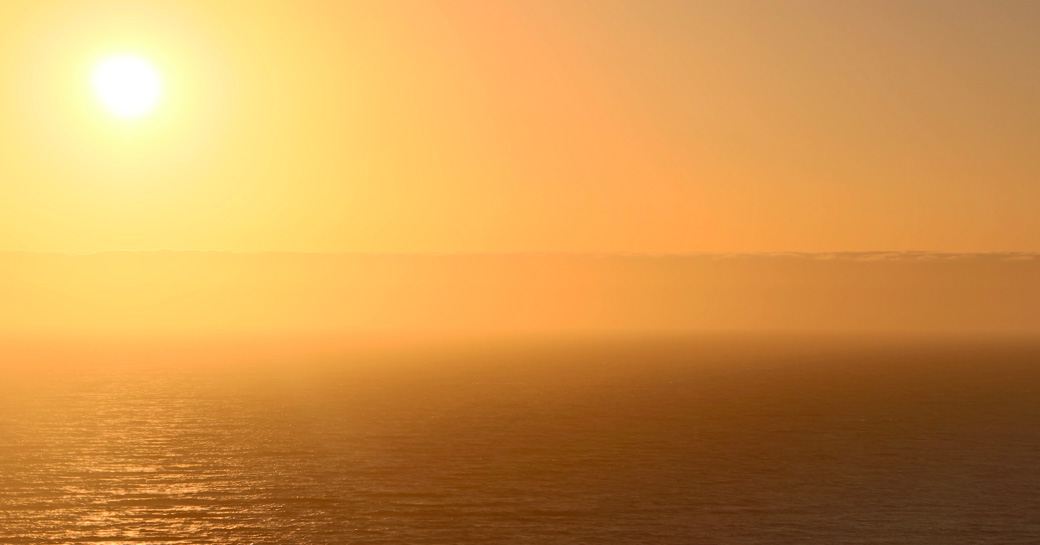 Once the sun burns away the early morning mist the little town comes alive and rarely goes to sleep before 3 am the next morning.
Ready for part 2?