Marius made it abundantly clear that we were not equipped to spend a few nights in our tent while it was snowing and with temperatures well below 0 we were bound to freeze.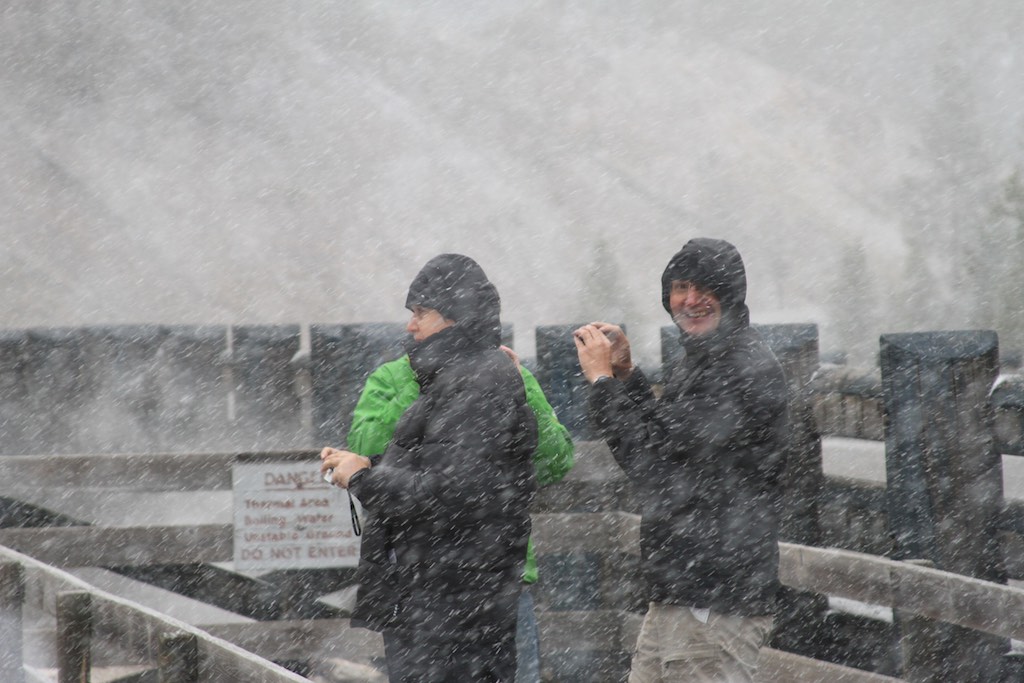 – Rysia and Trip taking pictures, the picture gives you a good idea of the temperatures in Yellowstone.
After looking for an affordable Motel or even hotel, we came to the quick realisation that everything was booked out. Rysia and Peter had a double room in the DaysInn, Rysia insisted that we share it with them. We cannot describe to you how thankful we were, even if they had to sneak us in.
The next morning our party of five headed into Yellowstone.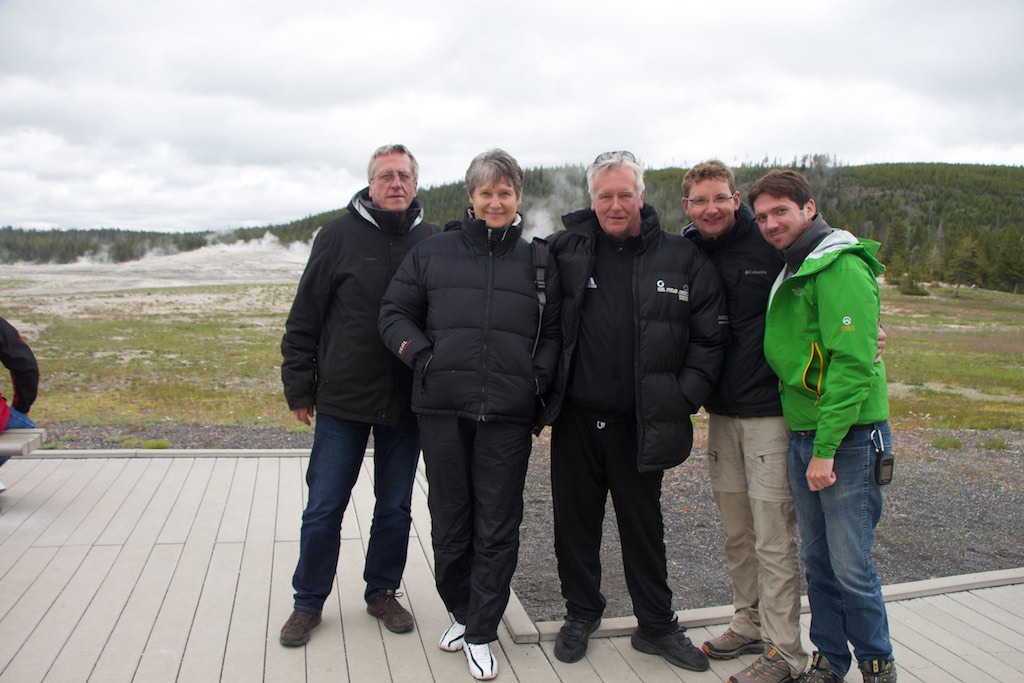 – Janusz, Rysia, Peter, Trip and Marius (Old Faithful geyser)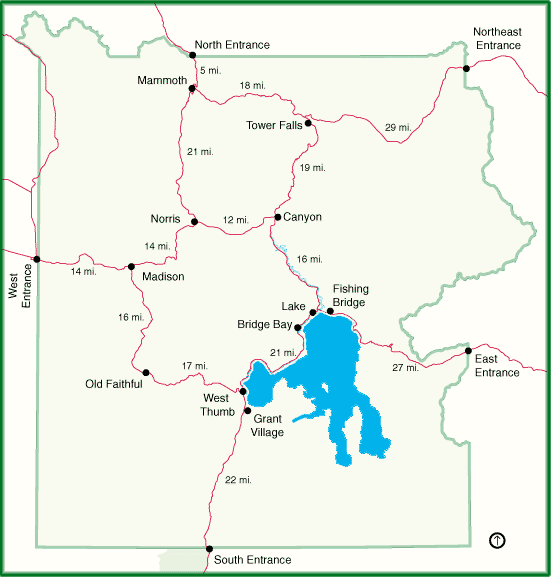 – Map of Yellowstone National Park (Full maps can be found here at http://www.nps.gov/features/yell/interactivemap/index.htm)
Here are a few interesting facts about Yellowstone that I'm sure you did not know about, it was the first National park in the world, it spans over 9000 km2 the Yellowstone caldera is a super volcano that erupts every few 100 million years.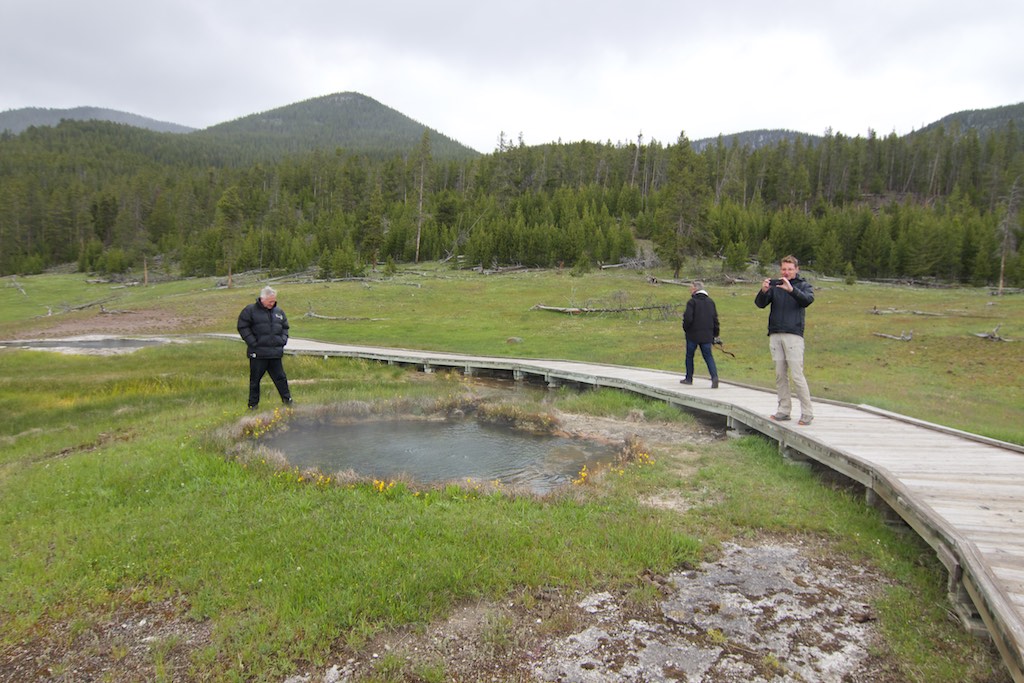 Heading into Yellowstone we decided to head north and our first geyser stop was just past Madison campground, Peter went to feel the temperature of the water, lost his balance, and almost became the morning stew. Marker 49 on the map below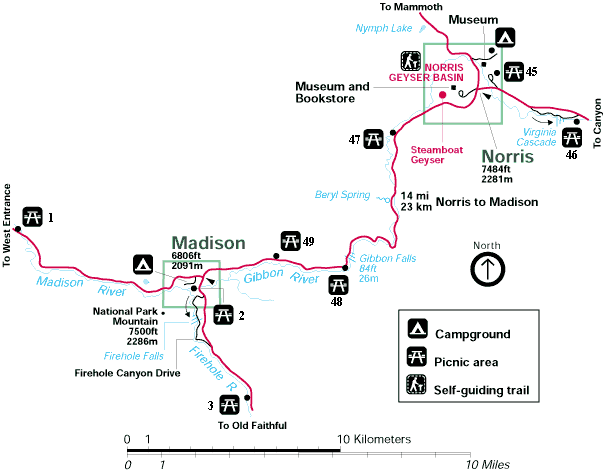 – Heading to Norris Basin.
The weather started off a bit chilly and got really bad as we headed higher and deeper into the park, at one stage we had to fight ice blizzards to see the geysers.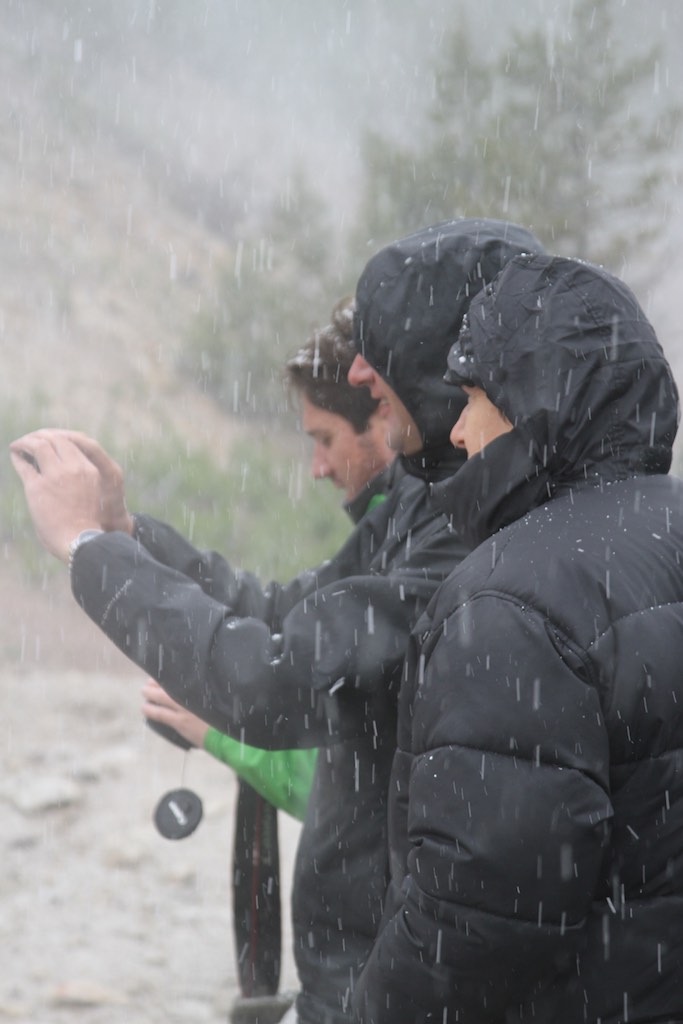 – All covered up to avoid freezing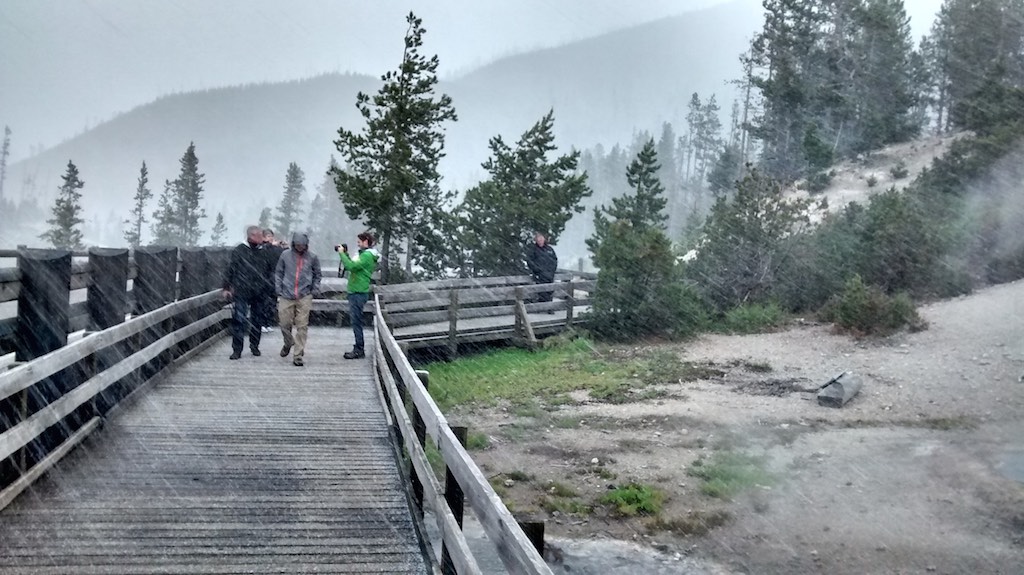 As we found out the weather in Yellowstone changes on a constant basis, you can go from an ice storm to t-shirt in minutes and vice versa.

– Norris basin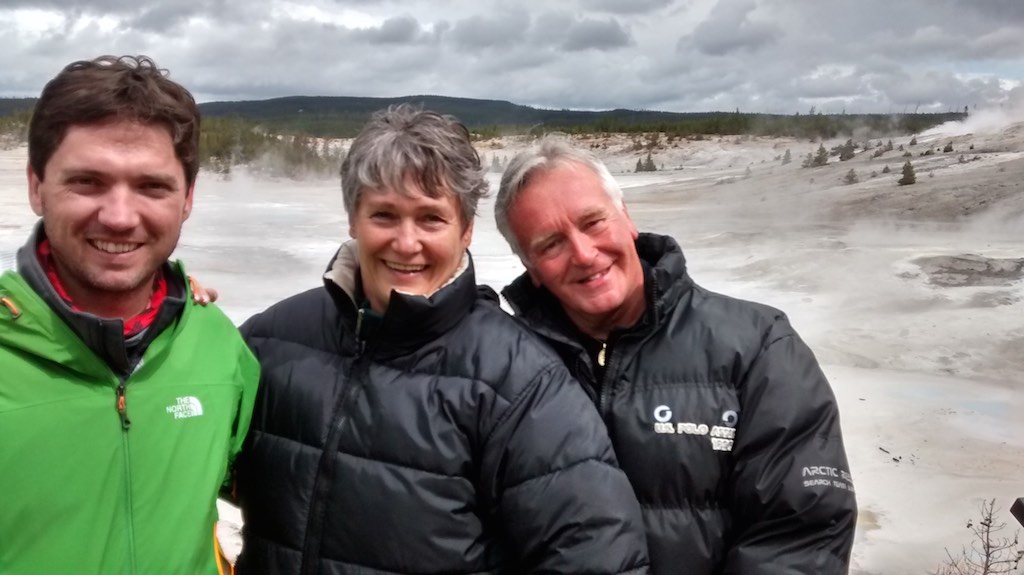 – Marius, Rysia and Peter at Norris Basin Geyser
The Norris Basin Geyser is the hottest geyser, the water temperature can go up to 300 Celsius, in the park, it has no active geysers, but its 'monuments' are siliceous sinter deposits similar to the siliceous spires discovered on the floor of Yellowstone Lake.
From Norris Basin, we headed across to Roosevelt Lodge, where Rysia bought herself a bear onesie 😉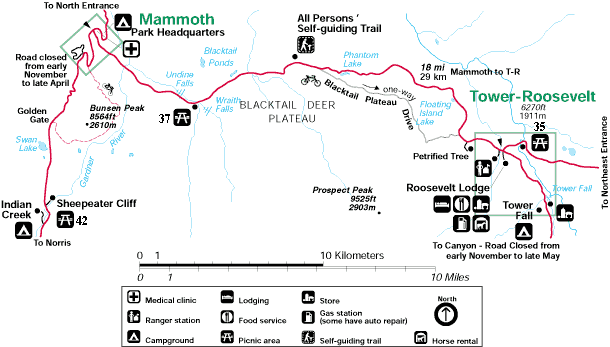 – Heading North towards Mammoth
The park is so vast that you need to spend at least a few days, just driving from one place to another takes hours and you can encounter traffic along the road.  The traffic jams are well known as either, Bearjams or Bison jams.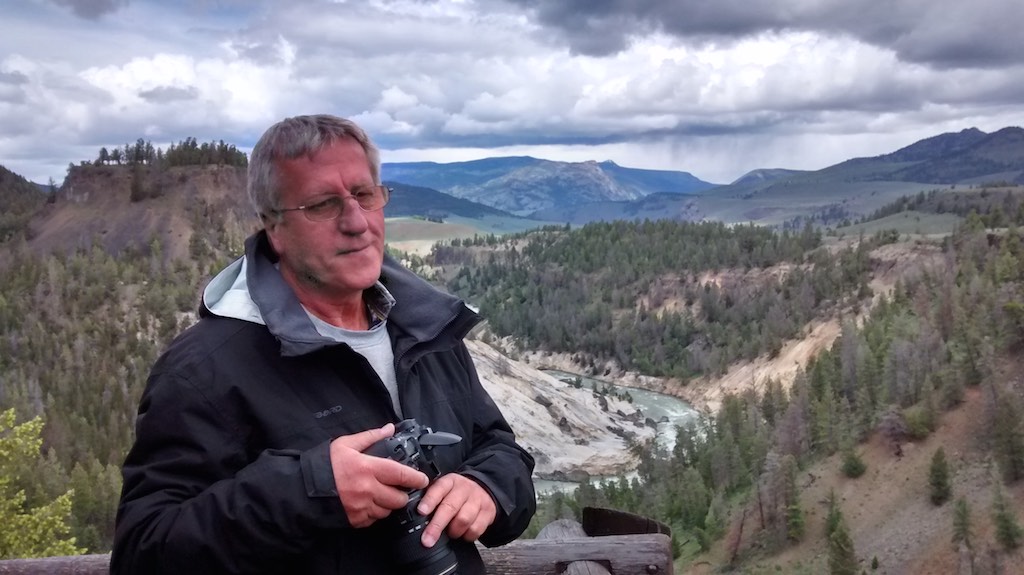 – Janusz always ready for a photo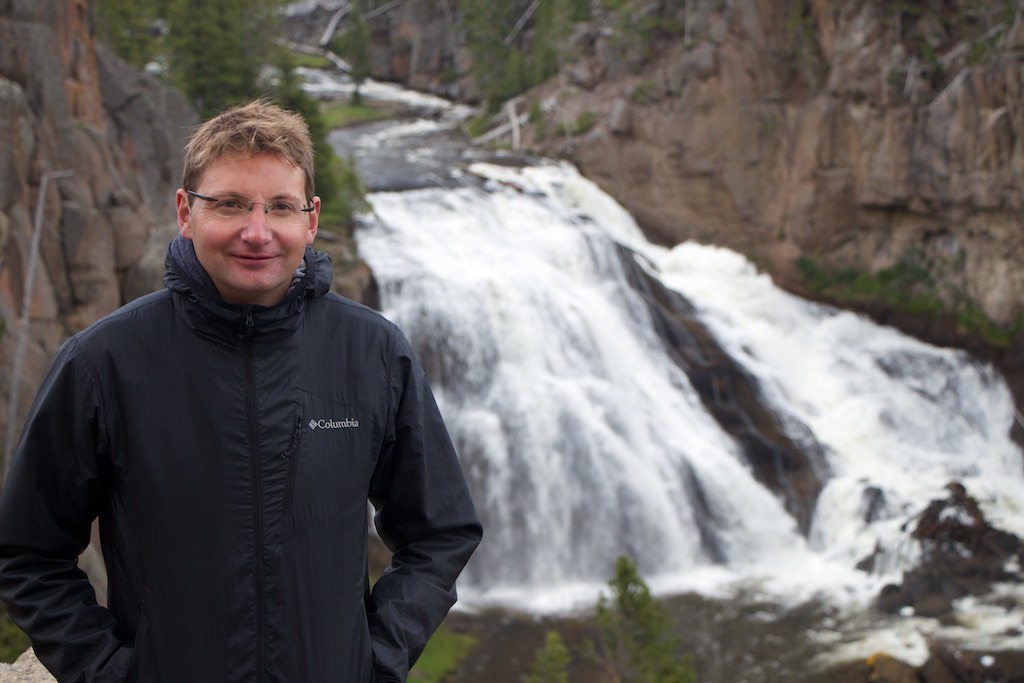 -Trip at Tower falls
Our last stop for the day was at Mammoth Falls, it was created over thousands of years as hot water from the spring cooled and deposited calcium carbonate (over two tons flow into Mammoth each day in a solution).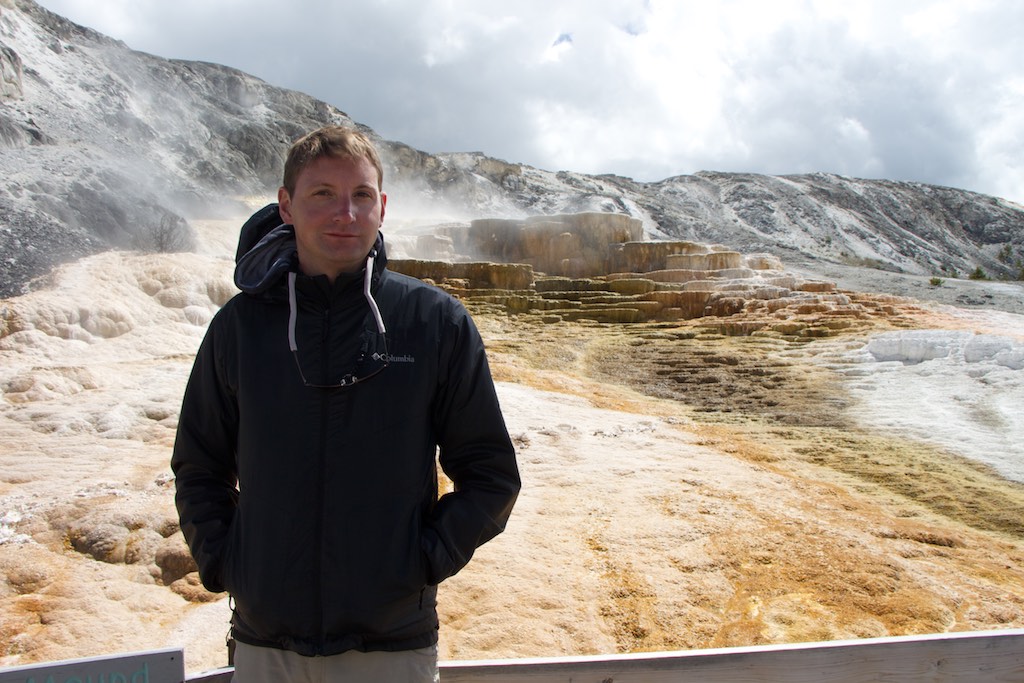 – Trip at Mammoth Falls
The next day we headed down on the south loop towards Old Faithful geyser. Along the road, we got stuck in a Bear jam, had a close encounter with an Elk and some Bison.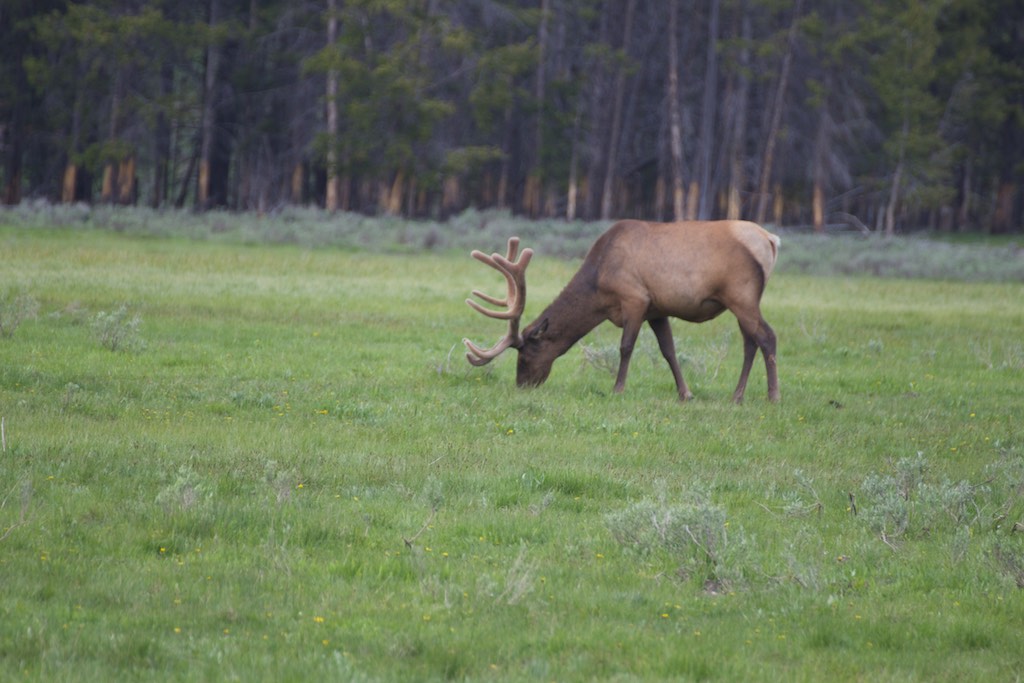 –  Elk on the plains of Yellowstone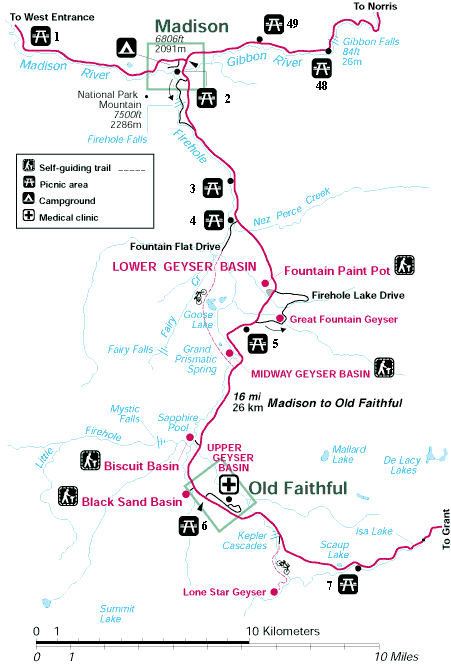 – Map to Old Faithful.
Old Faithful is a cone geyser and was named in 1870. It is one of the most predictable geographical features on Earth, erupting almost every 63 minutes.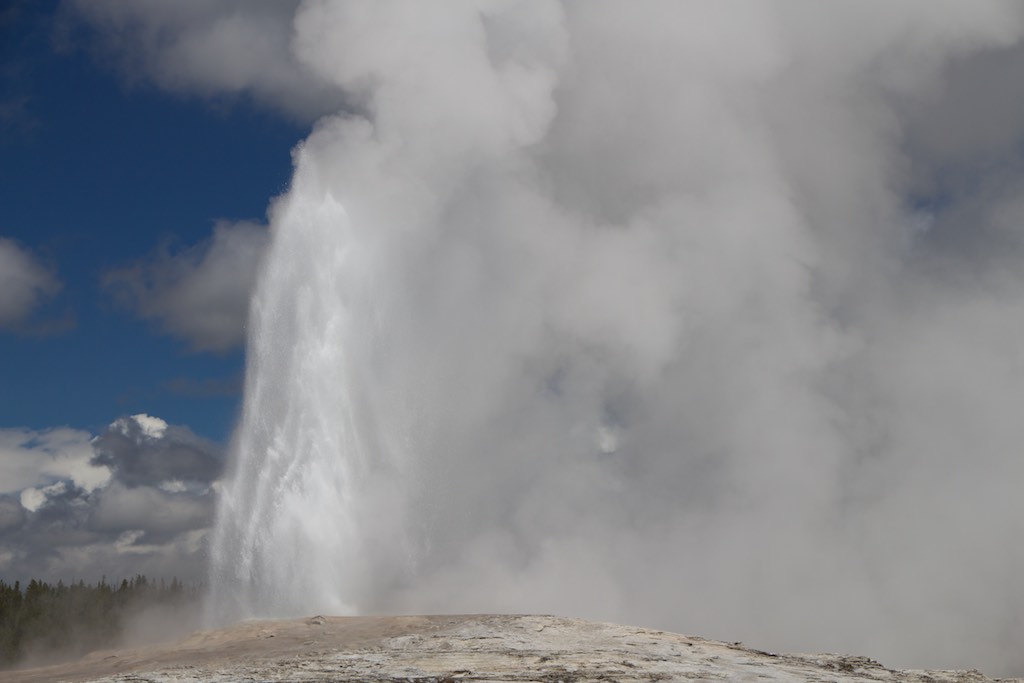 – Old Faithful Geyser.
It was so great being able to spend time in Yellowstone with our friends and family, after a BBQ on the lake we headed back to West Yellowstone. (Rysia remember how fussy Peter was about using the park grill ;-))